| | | |
| --- | --- | --- |
| | Japanese captured Amelia Earhart | |

Source : http://www.nevadaappeal.com/article/20091031/NEWS/910319978/1001/

Latest News - Bones found on island might be Amelia Earhart's




Amelia Mary Earhart ( July 24, 1897 – disappeared 1937) was a noted American aviation pioneer and author. Earhart was the first aviatrix to fly solo across the Atlantic Ocean. She received the U.S. Distinguished Flying Cross for this record..She set many other records, wrote best-selling books about her flying experiences and was instrumental in the formation of The Ninety-Nines, an organization for female pilots. Earhart joined the faculty of the Purdue University aviation department in 1935 as a visiting faculty member to counsel women on careers and help inspire others with her love for aviation. She was also a member of the National Woman's Party, and an early supporter of the Equal Rights Amendment.

During an attempt to make a circumnavigational flight of the globe in 1937 in a Purdue-funded Lockheed Model 10 Electra, Earhart disappeared over the central Pacific Ocean near Howland Island. Fascination with her life, career and disappearance continues to this day.

Myths, urban legends and unsupported claims

The unresolved circumstances of Earhart's disappearance, along with her fame, attracted a great body of other claims relating to her last flight, all of which have been generally dismissed for lack of verifiable evidence. Several unsupported theories have become well known in popular culture. Spies for FDR

A World War II-era movie called Flight for Freedom (1943) starring Rosalind Russell and Fred MacMurray furthered a myth that Earhart was spying on the Japanese in the Pacific at the request of the Franklin Roosevelt administration.By 1949, both the United Press and U.S. Army Intelligence had concluded this rumor was groundless. Jackie Cochran, another pioneering aviator and one of Earhart's friends, made a postwar search of numerous files in Japan and was convinced the Japanese were not involved in Earhart's disappearance.

Saipan claims

In 1966, CBS Correspondent Fred Goerner published a book claiming Earhart and Noonan were captured and executed when their aircraft crashed on the island of Saipan, part of the Mariana Islands archipelago, while it was under Japanese occupation. In 2009, an Earhart relative stated that the pair died in Japanese custody, citing unnamed witnesses including Japanese troops and Saipan natives.[155] He said that the Japanese cut the valuable Lockheed aircraft into scrap and threw the pieces into the ocean.

Thomas E. Devine (who served in a postal Army unit) wrote Eyewitness: The Amelia Earhart Incident which includes a letter from the daughter of a Japanese police official who claimed her father was responsible for Earhart's execution.

Former U.S. Marine Robert Wallack claimed he and other Marines opened a safe on Saipan and found Earhart's briefcase. Former U.S. Marine Earskin J. Nabers claimed that while serving as a wireless operator on Saipan in 1944, he decoded a message from naval officials which said Earhart's aircraft had been found at the airfield in the village of As Lito, that he was later ordered to guard the aircraft, and then witnessed its destruction. In 1990, the NBC-TV series Unsolved Mysteries broadcast an interview with a Saipanese woman who claimed to have witnessed Earhart and Noonan's execution by Japanese soldiers. No independent confirmation or support has ever emerged for any of these claims. Purported photographs of Earhart during her captivity have been identified as either fraudulent or having been taken before her final flight.

Since the end of World War II, a location on Tinian, which is five miles (eight km) southwest of Saipan, had been rumoured to be the grave of the two aviators. In 2004, a scientifically supported archaeological dig at the site failed to turn up any bones.


Tokyo Rose rumor

A rumor which claimed that Earhart had made propaganda radio broadcasts as one of the many women compelled to serve as Tokyo Rose was investigated closely by George Putnam. According to several biographies of Earhart, Putnam investigated this rumor personally but after listening to many recordings of numerous Tokyo Roses, he did not recognize her voice among them.

New Britain

The theory that Earhart may have turned back mid-flight has been posited. She would then have tried to reach the airfield at Rabaul, New Britain (northeast of mainland Papua New Guinea), approximately 2,200 miles (3,500 km) from Howland.


In 1990, Donald Angwin, a veteran of the Australian Army's World War II campaign in New Britain, contacted researchers to suggest that a wrecked aircraft he had witnessed in jungle about 40 miles (64 km) southwest of Rabaul, on April 17, 1945, may have been Earhart's Electra.[162] Angwin, who was a corporal in the 11th Battalion at the time,[163] reported that he and other members of a forward patrol on Japanese-occupied New Britain had found a wrecked twin-engined, unpainted all-metal aircraft. The soldiers recorded a rough position on a map, along with serial numbers seen on the wreckage. While the map was located in the possession of another veteran in 1993, subsequent searches of the area indicated failed to find a wreck.

These would be consistent with a Lockheed Electra 10E, such as that flown by Earhart, although they do not contain enough information to identify the wreck in question as NR16020.

Pacific Wrecks, a website that documents World War II-era aircraft crash sites, notes that no other Electra has been reported lost in or around Papua New Guinea. The site, however, also questions whether Earhart could have been so far from Howland and points out that the R-1340-S3H1 may have been from a USAAF B-17E reported to have exploded in mid-air over the area on August 7, 1942.

Assuming another identity

In November 2006, the National Geographic Channel aired episode two of the Undiscovered History series about a claim that Earhart survived the world flight, moved to New Jersey, changed her name, remarried and became Irene Craigmile Bolam. This claim had originally been raised in the book Amelia Earhart Lives (1970) by author Joe Klaas, based on the research of Major Joseph Gervais. Irene Bolam, who had been a banker in New York during the 1940s, denied being Earhart, filed a lawsuit requesting $1.5 million in damages and submitted a lengthy affidavit in which she refuted the claims. The book's publisher, McGraw-Hill, withdrew the book from the market shortly after it was released and court records indicate that they made an out of court settlement with her. Subsequently, Bolam's personal life history was thoroughly documented by researchers, eliminating any possibility she was Earhart. Kevin Richlin, a professional criminal forensic expert hired by National Geographic, studied photographs of both women and cited many measurable facial differences between Earhart and Bolam.

Wally Earhart of Carson City, the fourth cousin of Amelia Earhart, says the U.S. government continues to perpetrate a "massive coverup" about her mysterious disappearance in the Pacific 72 years ago.

Because of the current surge in interest about the pilot's fate spurred by the recent release of the film "Amelia," starring Richard Gere and Hilary Swank, it is time the American public "know the truth about Amelia's last days," said Earhart, who will portray Abraham Lincoln as grand marshal of the Nevada Day parade today.

Amelia and her navigator, Fred Noonan, did not die as claimed by the government and the Navy when their twin-engine Electra plunged into the Pacific on July 2, 1937, Wally Earhart said in an interview.

"They died while in Japanese captivity on the island of Saipan in the Northern Marianas," claims Earhart, a 38-year Carson City resident who often portrays Lincoln and other historical figures at appearances sponsored by groups such as the Nevada Historical Society.

"The Navy and the federal government would have you believe that Amelia and Noonan died on impact when their plane ran out of gas while attempting to reach Howland Island during their flight around the world," Earhart said.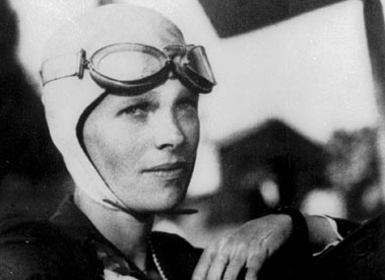 "Their airplane did crash into the Pacific, but instead of dying, the pair was rescued by a nearby Japanese fishing trawler. The Electra airplane was still floating and the Japanese hauled it aboard their ship in a large net.

"The Japanese then transported Amelia Earhart, Noonan and the airplane to Saipan. Noonan was beheaded by the Japanese and Amelia soon died from dysentery and other ailments," Wally Earhart continued. He added that the Japanese troops on the island cut the airplane into scrap and tossed the remnants into the Pacific.

"There are many people, including Japanese military and Saipan natives, who witnessed all these events on the island," said Earhart, who disputes claims by several historical researchers that Amelia Earhart and Noonan were instantly killed when their plane hit the water or they died of starvation and disease on either Howland Island, Gardner Island or in the Marshall Islands.

Why do the government and Navy continue to "cover up" the true facts of the case?

There are two major theories, according to Wally Earhart.

One is that the Navy was "inept" in not finding and rescuing the aviators after their aircraft crashed. The other is that President Franklin D. Roosevelt "wanted the whole matter kept under wraps," Earhart said.

"Roosevelt had asked Earhart, a close family friend, to scout Japanese military installations in the Pacific during her flights in the region. This was kept a deep secret back in 1937 and it is being kept a secret today because Japan and the United States are good friends and military allies and the government doesn't want to drudge up old antagonisms," Wally Earhart believes.

Earhart also noted that Amelia Earhart had close relations with Nevada.

"She loved Northern Nevada and often visited friends in Carson City and at Lake Tahoe. And she also made several flights across the state, stopping at a half-dozen cities," Earhart added.

On one flight, while flying a small plane between Las Vegas and Salt Lake City in 1928, she was declared missing after making a forced landing in bad weather in a deserted area near the Nevada-Utah state line. Rescuers were called out when it was feared she had crashed into a mountain peak in isolated Lincoln County in eastern Nevada.

Searchers ultimately found Amelia sitting beside her downed plane. She was uninjured but the craft suffered a bent propeller and other minor damages.

In 1931, Earhart crossed Nevada in an autogiro, the forerunner of the helicopter, making landings at Wendover, Elko, Battle Mountain, Lovelock and Reno.

And in 1929, George Putnam, her future husband and millionaire heir to a publishing fortune, divorced his first wife, Dorothy, in Reno. Amelia Earhart and Putnam were married two years later.

The mystery surrounding the fate of Amelia Earhart may never be solved. It remains the most famous missing person case in United States history.

Latest Update -

The three bone fragments turned up on a deserted South Pacific island that lay along the course Amelia Earhart was following when she vanished. Nearby were several tantalizing artifacts: some old makeup, some glass bottles and shells that had been cut open.

Now scientists at the University of Oklahoma hope to extract DNA from the tiny bone chips in tests that could prove Earhart died as a castaway after failing in her 1937 quest to become the first woman to fly around the world.

"There's no guarantee," said Ric Gillespie, director of the International Group for Historic Aircraft Recovery, a group of aviation enthusiasts in Delaware that found the pieces of bone this year while on an expedition to Nikumaroro Island, about 1,800 miles south of Hawaii.

"You only have to say you have a bone that may be human and may be linked to Earhart and people get excited. But it is true that, if they can get DNA, and if they can match it to Amelia Earhart's DNA, that's pretty good."

It could be months before scientists know for sure — and it could turn out the bones are from a turtle. The fragments were found near a hollowed-out turtle shell that might have been used to collect rain water, but there were no other turtle parts nearby.

Earhart's disappearance on July 2, 1937, remains one of the 20th century's most enduring mysteries. Did she run out of fuel and crash at sea? Did her Lockheed Electra develop engine trouble? Did she spot the island from the sky and attempt to land on a nearby reef?

"What were her last moments like? What was she doing? What happened?" asked Robin Jensen, an associate professor of communications at Purdue University in West Lafayette, Ind., who has studied Earhart's writings and speeches.

Since 1989, Gillespie's group has made 10 trips to the island, trying each time to find clues that might help determine the fate of Earhart and her navigator, Fred Noonan.










Discuss article | Article Link | More unsolved mysteries on Unexplained Mysteries