Herman Webster Mudgett, better known under the name of Dr. Henry Howard Holmes, was one of the first documented serial killers in the modern sense of the term. In Chicago at the time of the 1893 World's Columbian Exposition, Holmes opened a hotel which he had designed and built for himself specifically with murder in mind, and which was the location of many of his murders. While he confessed to 27 murders, of which nine were confirmed, his actual body count could be as high as 200. He brought an unknown number of his victims to his World's Fair Hotel from the Columbian Exposition, which was held in Jackson Park some five kilometers (three miles) to the east.

The case was notorious in its time and received wide publicity through a series of articles in William Randolph Hearst's newspapers. Interest in Holmes's crimes was revived in 2003 by Erik Larson's The Devil in the White City: Murder, Magic, and Madness at the Fair That Changed America, a best-selling non-fiction book that juxtaposed an account of the planning and staging of the World's Fair with Holmes's story. His story had been previously chronicled in The Torture Doctor by David Franke (1975), Depraved: The Shocking True Story of America's First Serial Killer by Harold Schechter (1994), and chapter VI "The Monster of Sixty-Third Street" of Gem of the Prairie: An Informal History of the Chicago Underworld by Herbert Asbury.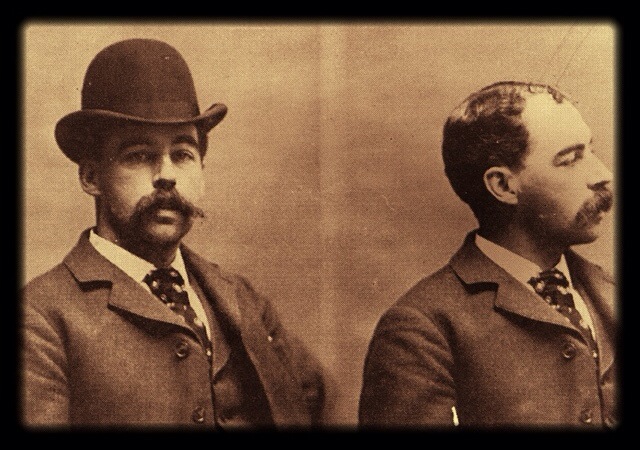 Mudgett was born in Gilmanton, New Hampshire, on May 16, 1861, to Levi Horton Mudgett and Theodate Page Price, both of whom were descended from the first European settlers in the area. Mudgett was his parents' third-born child; he had an older sister Ellen, an older brother Arthur, and a younger brother Henry. Mudgett's father was a farmer from a farming family, and his parents were devout Methodists. According to the 2007 Most Evil profile on Holmes, his father was a violent alcoholic. Mudgett claimed that, as a child, classmates forced him to view and touch a human skeleton after discovering his fear of the local doctor. The bullies initially brought him there to scare him, but Erik Larson speculates that instead he was utterly fascinated, and he soon became obsessed with death. On July 4, 1878, Mudgett married Clara Lovering in Alton, New Hampshire; their son, Robert Lovering Mudgett, was born on February 3, 1880, in Loudon, New Hampshire. (As an adult, Robert was to become a certified public accountant, and served as city manager of Orlando, Florida.)

In 1882, Mudgett entered the University of Michigan's Department of Medicine and Surgery and graduated in June of 1884 after passing his examinations. While enrolled, he stole bodies from the laboratory, disfigured the bodies, and claimed that the people were killed accidentally in order to collect insurance money from policies he took out on each deceased person. He moved to Chicago to pursue a career in pharmaceuticals. It was also at this time that Mudgett began engaging in many shady businesses, real estate, and promotional deals under the name "H.H. Holmes






On January 28, 1887, while he was still married to Clara, Holmes married Myrta Belknap (b. October 1862 in Pennsylvania) in Minneapolis, Minnesota. He filed for divorce from Clara a few weeks after marrying Myrta, but the divorce was never finalized.[12] Holmes had a daughter with Myrta, Lucy Theodate Holmes, who was born on July 4, 1889, in Englewood, Illinois. (As an adult, Lucy became a public schoolteacher.) Holmes lived with Myrta and Lucy in Wilmette, Illinois, and spent most of his time in Chicago tending to business.

Holmes married Georgiana Yoke on January 17, 1894, in Denver, Colorado, while still married to Clara and Myrta.He also had a relationship with Julia Smythe, the wife of one of his former employees. Julia would later become one of Holmes's victims


Holmes arrived in Chicago in August 1886 and came across Dr. Elizabeth S. Holton's drugstore at the northwest corner of S. Wallace Avenue and W. 63rd Street in the Englewood neighborhood. Holton gave Holmes a job, and he proved himself to be a hardworking employee. After the death of Holton's husband, Holmes offered to buy the drugstore from Holton, and she agreed. Holmes purchased the store mainly with funds obtained by mortgaging the store's fixtures and stock, the loan to be repaid in substantial monthly installments of one hundred dollars (worth $2,625 today).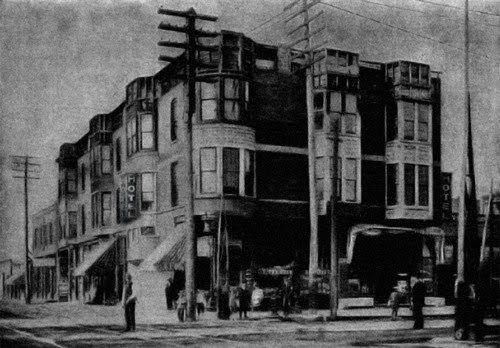 Holmes purchased a lot across from the drugstore where he built his three-story, block-long "castle" as it was dubbed by those in the neighborhood. The address of the Castle was 601-603 W. 63rd St. It was called the World's Fair Hotel and opened as a hostelry for the World's Columbian Exposition in 1893, with part of the structure devoted to commercial space. The ground floor of the Castle contained Holmes' own relocated drugstore and various shops, while the upper two floors contained his personal office and a maze of over 100 windowless rooms with doorways opening to brick walls, oddly-angled hallways, stairways to nowhere, doors openable only from the outside, and a host of other strange and labyrinthine constructions. Holmes repeatedly changed builders during the construction of the Castle, so only he fully understood the design of the house.

During the period of building construction in 1889, Holmes met Benjamin Pitezel, a carpenter with a past of lawbreaking, whom Holmes exploited as a stooge for his criminal schemes. A district attorney later described Pitezel as Holmes' "tool… his creature."

After the completion of the hotel, Holmes selected mostly female victims from among his employees (many of whom were required as a condition of employment to take out life insurance policies, for which Holmes would pay the premiums but was also the beneficiary), as well as his lovers and hotel guests, whom he would later kill. Some were locked in soundproof bedrooms fitted with gas lines that let him asphyxiate them at any time. Other victims were locked in a huge soundproof bank vault near his office, where they were left to suffocate. The victims' bodies were dropped by secret chute to the basement, where some were meticulously dissected, stripped of flesh, crafted into skeleton models, and then sold to medical schools. Holmes also cremated some of the bodies or placed them in lime pits for destruction. Holmes had two giant furnaces as well as pits of acid, bottles of various poisons, and even a stretching rack. Through the connections he had gained in medical school, he sold skeletons and organs with little difficulty.





Following the World's Fair with creditors closing in and the economy in a general slump, Holmes left Chicago. He reappeared in Fort Worth, Texas, where he had inherited property from two railroad heiress sisters, to one of whom he had promised marriage and both of whom he murdered. There, he sought to construct another castle along the lines of his Chicago operation. However, he soon abandoned this project. He continued to move throughout the United States and Canada. The only murders verified during this period were those of his longtime associate Benjamin Pitezel and three of Pitezel's children.

In July 1894, Holmes was arrested and briefly incarcerated for the first time, for a horse swindle that ended in St. Louis. He was promptly bailed out, but while in jail, he struck up a conversation with a convicted train robber named Marion Hedgepeth, who was serving a 25-year sentence. Holmes had concocted a plan to swindle an insurance company out of $10,000 by taking out a policy on himself and then faking his death. Holmes promised Hedgepeth a $500 commission in exchange for the name of a lawyer who could be trusted. Holmes was directed to a young St. Louis attorney named Jeptha Howe. Jeptha Howe was in practice with his older brother, Alphonso Howe, who had no involvement with Holmes or Pitezel or their fraudulent activities. Jeptha Howe, however, found Holmes' scheme brilliant. Nevertheless, Holmes' plan to fake his own death failed when the insurance company became suspicious and refused to pay. Holmes did not press the claim; instead he concocted a similar plan with his associate, Benjamin Pitezel.

Pitezel had agreed to fake his own death so that his wife could collect on a $10,000 life insurance policy, which she was to split with Holmes and the unscrupulous attorney, Jeptha Howe. The scheme, which was to take place in Philadelphia, was that Pitezel would set himself up as an inventor, under the name B.F. Perry, and then be killed and disfigured in a lab explosion. Holmes was to find an appropriate cadaver to play the role of Pitezel. Holmes instead killed Pitezel, and proceeded to collect the insurance payout on the basis of the genuine Pitezel corpse. Holmes then went on to manipulate Pitezel's unsuspecting wife into allowing three of her five children (Alice, Nellie, and Howard) to be in his custody. The eldest daughter and the baby remained with Mrs. Pitezel.

Forensic evidence presented at Holmes' later trial showed that chloroform had been administered after Pitezel's death, presumably to fake suicide that the insurance company was unaware of and that possibly could exonerate Holmes were he to be charged with murder. (Pitezel had been an alcoholic and chronic depressive, so suicide would not be implausible. Life insurance carries a "suicide clause" that prevents a payout if the policy were issued within two years of the insured's suicide.)

Holmes and the three Pitezel children traveled throughout the northern United States and into Canada. Simultaneously, he escorted Mrs. Pitezel along a parallel route, all the while using various aliases and lying to Mrs. Pitezel concerning her husband's death (claiming that Pitezel was in hiding in London), as well as lying to her about the true whereabouts of her three missing children. In Detroit, just prior to entering Canada, they were only separated by a few blocks. In an even more audacious move, Holmes was staying at another location with his wife - who was ignorant of the whole affair. A Philadelphia detective, Frank Geyer, had tracked Holmes, finding the decomposed bodies of the two Pitezel girls in Toronto buried in the cellar at 16 St. Vincent Street. He then followed Holmes to Indianapolis, where Holmes had rented a cottage. Holmes was reported to have visited a local pharmacy to purchase the drugs which he used to kill Howard Pitezel, and a repair shop to sharpen the knives he used to chop up the body before he burned it. The boy's teeth and bits of bone were discovered in the home's chimney.

In 1894, the police were tipped off by Holmes' former cellmate, Marion Hedgepeth, whom Holmes had neglected to pay off as promised for his help in providing attorney Jeptha Howe.[citation needed] Holmes' murder spree finally ended when he was arrested in Boston on November 17, 1894, after being tracked there from Philadelphia by the Pinkertons. He was held on an outstanding warrant for horse theft in Texas, as the authorities had little more than suspicions at this point and Holmes appeared poised to flee the country, in the company of his unsuspecting third wife.

After the custodian for the Castle, Pat Quinlan, informed police that he was never permitted to clean the upper floors, police began a thorough investigation over the course of the next month, uncovering Holmes' efficient methods of committing murders and then disposing of the corpses.

The number of his victims has been estimated between 20 and 100, and even as high as 200, based upon missing persons reports of the time as well as the testimony of Holmes' neighbors, who reported seeing him accompany unidentified young women into his hotel—young women whom they never saw exit. The discrepancy in numbers can perhaps best be attributed to the fact that a great many people came to Chicago to see the World's Fair but, for one reason or another, never returned home. The only verified number is 27, although police had commented that some of the bodies in the basement were so badly dismembered and decomposed that it was difficult to tell how many bodies there actually were. Holmes' victims were mainly women (and primarily blonde), but included some men and children.










comments powered by

Submit News/Videos/Links | Discuss article | Article Link More Unsolved and Unexplained Mysteries