Get FREE articles:
Unexplained Mysteries

Home >Unexplained Mystery of Burke & Hare Murderdolls
| | | |
| --- | --- | --- |
| | Unexplained Mystery of Burke & Hare Murderdolls | |

Source : http://en.wikipedia.org/wiki/Burke_and_Hare_murders // http://www.atlasobscura.com/places/burke-hare-murder-dolls



Set in Scotland's magnificent capital, Edinburgh, Murder dolls is a tale of serial killers, Bodysnatchers and grisly science. The story begins on a misty morning in 1836 with the discovery of 17 miniature wooden coffins. Inside each one, is an eerie, dressed doll. The discovery of the dolls has led to some interesting theories – everything from the work of a madman to tales of witchcraft. But some believe that Edinburgh's miniature coffins may be connected to Scotland's most notorious serial killers –Burke and Hare - two Irish laborers who murdered seventeen victims in the 1800's. But how are the dolls connected to the 17 murder victims – and who made them?

Burke and Hare are notorious even today, but in the time of Ghosts of Albion their crimes are a matter of relatively recent memory. Their murder spree, known as the West Port murders, began in Edinburgh from late 1827 and continued for most of 1828. Their victims were drugged and suffocated to keep them intact; the bodies were sold to a Dr Robert Knox for dissection. In the end, a neighbour discovered the body of their last victim and alerted the police. However, the evidence of murder wasn't actually that good, and Hare was offered immunity if he confessed and testified against Burke. Burke made his own confession - in which he claimed that Dr Knox knew nothing of the origin of the bodies they sold him - but was sentenced to death and hanged in January 1829.

Less well known is that Burke's lover (Helen M'Dougal) and Hare's wife (Margaret, née Laird) were also implicated, though they were released for lack of proof - both narrowly escaped death from an outraged public - M'Dougal is thought to have left the country, while Margaret Hare's dropped off the map. William Hare also dropped off the map, though popular folklore invented a variety of painful ends for him. Despite Burke's claim that Dr Knox was not involved, the scandal destroyed his reputation in Edinburgh, and he went to London, and died in 1862.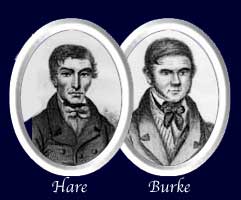 At first theories on the dolls significance ranged from witchcraft to child's toys, but eventually it began to seem that the 17 tiny figures could be effigies for the 17 murder victims a decade earlier.

Between 1827-1828 William Burke and William Hare lured in and murdered their lodgers in a scheme to provide fresh bodies to the local anatomy school. Dr. Robert Knox, a brilliant and well known local anatomy lecturer purchased the bodies, and most likely knew that something was a bit suspicious about his supply chain.





The crimes were exposed when another lodger discovered the body of a previous tenant, and reported it to the police. Burke and Hare were apprehended along with Burke's mistress, Helen McDougal, and Hare's wife, Margaret Laird. Despite finding the body of this last lodger in Knox's classroom, ready for dissection, the evidence was not truly damning until Hare turned on Burke, and gave a full confession. William Burke was hanged in Jan, 1829. His body was handed over for dissection, and his skeleton and a book bound from his skin remain in the collection of the Royal College of Surgeons, Edinburgh.

The four inch long dolls were in the hands of a private collector until 1901, when eight of them were handed over to the the National Museum Scotland, where they can be visited today. Although it is generally agreed that the mysterious little dolls are associated with the crimes of Burke & Hare, no one is certain who among the killers created them. DNA studies conducted in 2005 using DNA extracted from Burke's skeleton attempted to prove that they had been created to assuage the guilty conscience of William Burke, but the test proved inconclusive, so the truth of their creation may never be known.

The story of the Burke and Hare Murderdolls starts with a series of murders committed in Edinburgh, Scotland that occurred in the late 1820s. The mystery of the murder dolls begins around the same time and continues until this day. It is a strange mystery that may have some connection to the guilt or sadistic obsessions of one of the killers.

Not long after a series of murders took place in Edinburgh, Scotland, a boy found an interesting group of dolls in tiny coffins. They found the dolls in a cave on Arthur's Seat at Holyrood Park in Edinburgh. Initially, the dolls appeared odd, but did not seem to have any significance beyond their oddness and the location in which they were found. Over time, it became obvious that they were very similar in number and appearance to the victims of the recent killing spree.

William Burke and William Hare were two Irishmen who met in Scotland and became friends sometime in the 1820s. Hare ran a boarding house with his wife. There, in 1828, one of the tenants died of natural causes. Burke and Hare sold the body of the man to a doctor at Edinburgh University to be used as a medical school cadaver.




At the time, the medical schools had a shortage of bodies to use for dissection. They were only allowed to use executed criminals and criminals were being executed less frequently. Doctors were sometimes resorting to purchasing bodies from so-called body snatchers or, more accurately, grave robbers. It appears that one Dr. Knox of the University of Edinburgh was not averse to purchasing the bodies of murder victims, either, though it is not absolutely certain that he was aware of the fact when he started doing it.

Before 1832, there were insufficient cadavers legitimately available for the study and teaching of anatomy in Britain's medical schools. As medical science began to flourish in the early nineteenth century, the demand for cadavers rose sharply, but at the same time the legal supply failed to keep pace. One of the main sources—the bodies of executed criminals—had begun to dry up owing to a reduction in the number of executions being carried out in the early nineteenth century. The situation of too few corpses available to doctors for demonstrating anatomical dissection to growing numbers of students attracted criminal elements willing to obtain specimens by any means. As at similar institutions, doctors teaching at the Edinburgh Medical School, which was universally renowned for medical sciences, relied increasingly on body-snatchers for a steady supply of "anatomical subjects". The activities of these "resurrectionists" gave rise to particular public fear and revulsion, but, such were the financial inducements, the illegal trade continued to grow. It was a short step from grave-robbing to anatomy murder.

After selling the body of the deceased tenant, Burke and Hare realized that they could make a living off selling the bodies of the dead. They were making less than the equivalent of 1,500 USD in modern currency per body, but that was enough to compel them to kill 16 individuals. Many were killed by smothering, though one was given a medication overdose and a little boy had his back broken. Eventually, a tenant found a body underneath a bed at the boarding house and turned the pair into the police. The body was gone by the time the police got there. However, Hare made a deal and told all in exchange for his freedom. Burke was executed and dissected publicly and several of his body parts, included a death mask of his face, were saved. Hare walked. No one knows what happened to him.

The dolls discovered in the cave numbered 17. They also appeared to represent each of the bodies sold to Dr. Knox — who was not charged with any crime. The dolls are roughly 4 inches long each and have their own individual coffins. Dating puts them around the same time as the murders and many assume that one of the killers is responsible for carving the dolls. Modern DNA testing conducted on the body of Burke and on the dolls found no connection, but that is because there was nothing to find on the dolls after all this time.





If indeed the dolls were made during the killings, only a handful of people could have done the carving. There was Dr. Knox, who likely knew the cadavers he was purchasing were murder victims. There were Burke and Hare, Hare's mistress and Burke's wife. Dr. Knox's brother possibly knew as well, but there were almost certainly no more people who could have made the dolls. One of these people could have made the dolls out of guilt. Of course, one of the killers could have made the dolls as souvenirs and stashed them in the cave when the murders were discovered. Hare could have made them after Burke's murder trial and stashed them as well. If they were made after the murders were discovered, it could have been anybody.

There are currently only 8 of the original 17 murder dolls left. They are kept at the National Museum of Scotland in Edinburgh. The dissected remains of one of the men who killed the people the dolls reportedly represent — Burke — are kept at the University of Edinburgh.

Burke and Hare's first murder victim was a sick tenant named Joseph, a miller by trade, whom they plied with whisky and then suffocated. When there were no other sickly tenants, they decided to lure a victim from the street. In February 1828, they invited pensioner Abigail Simpson to spend the night before her return home to the village of Gilmerton. The following morning they employed the same modus operandi, serving her with alcohol to intoxicate her, and then smothering her. This time they placed the body in a tea-chest and handed it over to a porter sent to meet them "at the back of the Castle". They were paid £10. Mary Paterson

Two further undated murders took place that Spring. One victim was invited into the house by Mrs Hare and plied with drink until Hare's arrival; the other was despatched in similar circumstances by Burke acting on his own. Next, Burke encountered two women, Mary Paterson and Janet Brown, in the section of Edinburgh known as the Canongate. He invited them to breakfast at his brother's house in Gibb's Close, but Brown left when an argument broke out between McDougal and Burke. When she returned, she was told that Paterson had left with Burke; in fact, she, too, had been taken to Dr. Knox's rooms in a tea-chest. The two women were described as prostitutes in contemporary accounts. The story later arose that one of Knox's students had recognized the dead Paterson, whose acquaintance he had made a few days earlier. Daft Jamie

One victim was an acquaintance of Burke, a woman called Effie who scavenged for a living and was in the habit of selling him scraps of leather she found which he could use for his cobbling. They were paid £10 for her body. Then Burke "saved" an inebriated woman from being held by a policeman and his assisting neighbour by claiming that he knew her and could take her back to her lodging. He delivered her body to the medical school just hours later. The next two victims were an old woman and her mute son or grandson, aged about 12. While the woman died from an overdose on painkillers, Hare took the young boy and stretched him over his knee, then proceeded to break his back. He later said that this was the murder that disturbed him the most, as he was haunted by his recollection of the boy's expression. The customary tea-chest being found inadequate, both bodies were forced into a herring barrel and conveyed to Surgeons' Square, where they fetched £8 each. According to Burke, the barrel was loaded onto a cart which Hare's horse refused to pull uphill from the Cowgate, so that Hare had to call a porter to help him drag it the rest of the way on a sled. Once back in Tanner's Close, Hare took his anger out on the horse by shooting it dead in the yard. Mrs Docherty

Two more victims were Burke's acquaintance, Mrs. Hostler, and one of McDougal's relatives, Ann Dougal, a cousin from Falkirk. Burke later claimed that about this time Mrs Hare suggested converting Helen McDougal into merchandise on the grounds that "they could not trust her, as she was a Scotch woman"; but he refused.

Another victim was Mary Haldane, a former lodger who, down on her luck, asked to sleep in Hare's stable. Burke and Hare also murdered her daughter Peggy Haldane when she called a few days later to inquire after her mother's whereabouts.

Burke and Hare's next victim was a familiar figure in the streets of Edinburgh, a mentally retarded young man with a limp, named James Wilson. "Daft Jamie", as he was known locally, was 18 at the time of his murder. The boy resisted, and the pair had to kill him together, though later each blamed the other for taking the main part in the crime. His mother began searching and asking for him. When Dr. Knox uncovered the body the next morning, several students recognized Jamie. Knox denied that it was the missing boy, and was reported to have dissected the body ahead of others to render the remains unrecognisable. While Hare was in the habit of disposing of victims' clothing in the Union Canal, Burke passed Jamie's clothes to his nephews, leaving behind material evidence which was recovered before the trial.

Burke stated later that he and Hare were "generally in a state of intoxication" when the murders were carried out, and that he "could not sleep at night without a bottle of whisky by his bedside, and a twopenny candle to burn all night beside him; when he awoke he would take a draught of the bottle—sometimes half a bottle at a draught—and that would make him sleep".

The last victim was Mrs Mary Docherty. Burke lured her into the lodging house by claiming that his mother was also a Docherty, but he had to wait to complete his murderous task because of the presence of lodgers James and Ann Gray. The Grays left for the night and neighbours later reported having heard the sounds of a struggle and even a woman's voice crying "murder!"








Submit News/Videos/Links | Discuss article | Article Link | More Unsolved and Unexplained Mysteries


More can be addded on request. Direct your requests at vinit@theunexplainedmysteries.com