| | | |
| --- | --- | --- |
| | Creepy Video of Corpse Of Girl 'Opening Her Eyes' St. Innoncence - Unexplained Mysteries | |

Source: https://www.youtube.com/embed/AXl2-XNKGKI




A video appearing to show the 300-year-old corpse of a young girl opening its eyes has got people just a little bit weirded out.According to legend, St Innocence was stabbed to death by her father when he found her performing First Communion with local nuns behind his back having previously forbidden her from practising Catholicism.

"This holy beatified is known for miracles and this is just one of many "says Cardinal Juan Francisco Robles.

The Catholic Church, among others, has traditionally been considered the incorruptibility of certain characters, particularly saints and blesseds, as a miraculous sign of his holiness, and for this reason there are many bodies called uncorrupted venerated in Catholic shrines. The idea of the uncorrupted body usually gives rise to the idea that these bodies are kept in more or less as they were at the time of death. The exposed bodies are usually coated wax layers which help emphasize the idea of incorruptibility. This is the case of the bodies of the martyr known as holy innocence that is in the Cathedral of Guadalajara Jalisco Mexico to the view. It is also known to fulfill miracles can indeed see the glass case with letters and offerings that they leave people waiting for a miracle of the little martyr. it off a few weeks a person to burn the body with his cell phone could capture the small opening his eyes, even if the person claims not to have seen it at the time recorded makes was until after he taught his family the video realized that the corpse opened her eyes clearly before the camera.

Since her murder, the preserved remains of the little girl have been displayed in the Cathedral of Guadalajara in Jalisco in Mexico, where tourists can pay their respects to her.

Shot in 2012, the clip has recently gained traction on YouTube prompting a mixture of disbelief and deep scepticism. According to the post, the person who shot the video was unaware of what they'd captured until they viewed it later.

Viewer's reactions were mixed...

"Yes, it looks like her eyes open towards the end of the video but how can it be possible?"

"The devil wants to impress."

As well as lots of people simply saying: "Fake".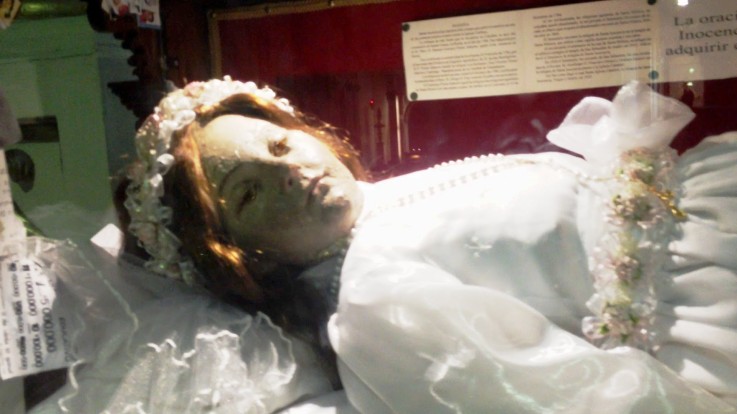 comments powered by