Get FREE articles:
Unexplained Mysteries

Home >Students film 'Bigfoot' in Idaho woods - VIDEO
| | | |
| --- | --- | --- |
| | Meteorite hits Russian Urals: Fireball explosion wreaks havoc, over 900 injured (PHOTOS, VIDEO) | |

Source :http://www.youtube.com





Meteorite crash in Russia: Video of meteorite explosion that stirred panic in Urals region



Meteorite explosions in the skies of Russia's Urals region has sparked panic in three major cities. Witnesses said that houses shuddered, windows were blown out and cellphones stopped working.



Russia's Urals region has been rocked by a meteorite explosion in the stratosphere. The impact wave damaged several buildings, and blew out thousands of windows amid frigid winter weather. Hundreds have sought medical attention for minor injuries.Around 950 people have sought medical attention in Chelyabinsk alone because of the disaster, the region's governor Mikhail Yurevich told RIA Novosti. Over 110 of them have been hospitalized and two of them are in heavy condition. Among the injured there are 159 children, Emergency ministry reported.

Army units found three meteorite debris impact sites, two of which are in an area near Chebarkul Lake, west of Chelyabinsk. The third site was found some 80 kilometers further to the northwest, near the town of Zlatoust. One of the fragments that struck near Chebarkul left a crater six meters in diameter.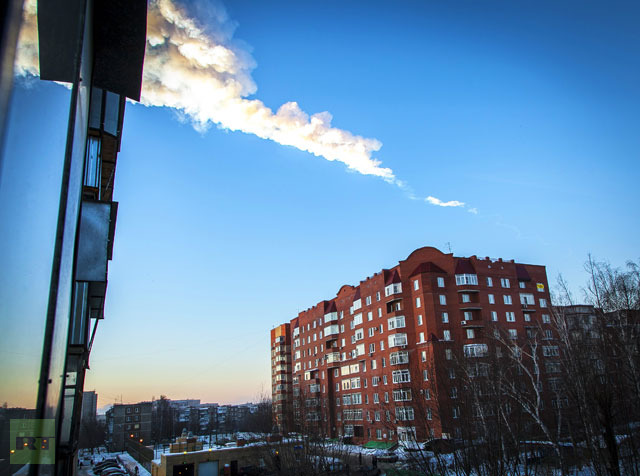 Servicemembers from the tank brigade that found the crater have confirmed that background radiation levels at the site are normal.

According to estimates by the Russian Academy of Sciences, the space object weighed about 10 tons before entering Earth's atmosphere.­A meteorite is a solid piece of debris from space objects such as asteroids or comets, ranging in size from tiny to gigantic.When a meteorite falls on Earth, passing through the atmosphere causes it to heat up and emit a trail of light, forming a fireball known as a meteor, or shooting or falling star.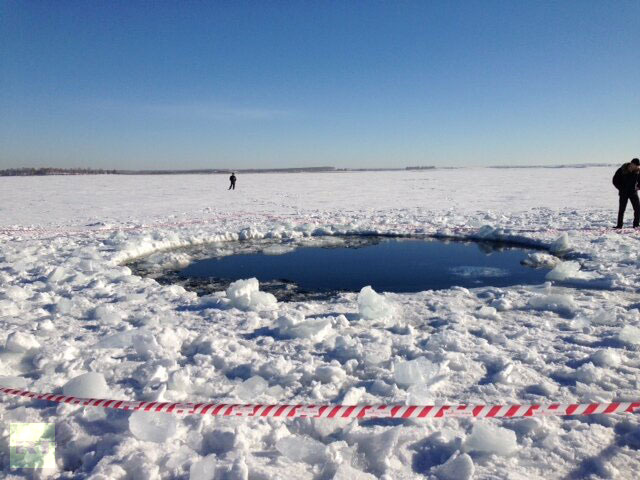 A bright flash was seen in the Chelyabinsk, Tyumen and Sverdlovsk regions, Russia's Republic of Bashkiria and in northern Kazakhstan.The Russian army has joined the rescue operation. Radiation, chemical and biological protection units have been put on high alert. Since the explosion occurred several kilometers above the Earth, a large ground area must be thoroughly checked for radiation and other threats.

According to preliminary reports, the worst damage on the ground in Chelyabinsk was at a zinc factory, the walls and roof of which were partially destroyed by an impact wave. The city's Internet and mobile service were reportedly interrupted because of the damage inflicted near the factory. Chelyabinsk administration's website said nearly 3,000 buildings were damaged to varying extents by the meteor shower in the city, including 34 medical facilities and 361 schools and kindergartens. The total amount of window glass shattered amounts to 100,000 square meters, the site said, citing city administration head Sergey Davydov. The ministry also said that no local power stations or civil aircraft were damaged by the meteorite shower, and that "all flights proceed according to schedule."

Buildings were left without gas because facilities in the city had also been damaged, an Emergency Ministry spokesperson said, according to Russia 24 news channel.The Emergency Ministry reported that 20,000 rescue workers are operating in the region. Three aircraft were deployed to survey the area and locate other possible impact locations.










Submit News/Videos/Links | Discuss article | Article Link | More unsolved mysteries on Unexplained Mysteries


More can be addded on request. Direct your requests at vinit@theunexplainedmysteries.com