| | | |
| --- | --- | --- |
| | Unsolved Murder Mystery of Black Dahlia and Torso Slayer | |


Source: http://en.wikipedia.org/wiki/Draugr



She was known as the "Black Dahlia". She had jet black hair and preferred black dresses and lingerie. Those who knew her best said she had a tattoo of an exotic flower on her inner thigh. She wanted desperately to be a Hollywood actress, but her fame would not come from the movies. It would come from her death, a murder which has gone unsolved for 60 years.

Elizabeth Short(July 29, 1924 – ca. January 15, 1947) was an American woman and the victim of a gruesome and much-publicized murder. She acquired the moniker The Black Dahlia posthumously by newspapers in the habit of nicknaming crimes they found particularly colorful. Short was found mutilated, her body severed at the waist, on January 15, 1947, in Leimert Park, Los Angeles, California. Short's unsolved murder has been the source of widespread speculation along with several books and film adaptations.

On a cold morning in January 1947, the nude, mutilated body of 22-year-old Elizabeth Short was discovered in a vacant lot in the Leimert Park area of Los Angeles. What made the murder so unique was the barbaric nature of the crime. The Black Dahlia's body had been neatly severed in half, gutted and drained of blood. Author Lawrence P. Scherb put the unusual crime into perspective:

"Her face had been very brutally cut from ear to ear in a grin. Her throat had been cut and she had been mutilated sexually. Basically, she was the worst case of a sex crime in the history of Los Angeles County."

The case of The Black Dahlia has fascinated crime writers for generations, and almost every one of them has a different theory about the killer. Lawrence Scherb has studied the Black Dahlia case extensively. Now, he believes he knows the identity of the man who so brutally murdered Elizabeth Short.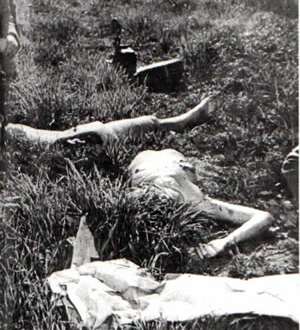 Elizabeth Short's life was as sad as it was brief. Like so many other young women, Elizabeth had been lured to Hollywood with dreams of becoming a star. Her career was going nowhere and she was running out of cash. According to some, she eventually drifted into prostitution.

In her final days, Elizabeth seemed to be constantly on the move. According to Lawrence Scherb, she was last seen leaving a diner in San Diego with a man who has never been positively identified:

"She called him Red when she spoke to him in the diner and he did have reddish colored hair. However, the police were never able to positively identify him, although some people felt that he might have been Robert Manley."

Robert Manley was a hardware salesman who dated Elizabeth. Police brought him in for questioning but he was cleared of the crime. Other men who were involved with Elizabeth were also interrogated, but each, like Manley, had an airtight alibi. The authorities were completely stumped. Then a mysterious package was mailed to a local newspaper -- a package from the killer. Lawrence Scherb described what it contained:

"Inside the envelope they found Elizabeth Short's address book, which was in reality her trick book. And one of the pages in that book was missing. And it is undoubtedly true that upon that page was the name of the man who actually had killed her."



The package was the closest anyone ever got to the Black Dahlia's killer. Then Lawrence began to research the case and made a remarkable connection. The case had many of the same features as the Torso Slayings in Cleveland. That sensational crime spree was the case that baffled Eliot Ness, the head of the famed crime fighting team, "The Untouchables."

Between 1934 and 1938, no less than thirteen mutilated bodies were discovered in the Kingsbury Run district and surrounding areas of Cleveland. The victims were all prostitutes or drifters. The killer had dismembered most of the bodies with surgical precision, just like The Black Dahlia case, nine years later.

Many people believe that Elliot Ness actually knew the Slayer's identity, but never had enough evidence to prove it in court. His biographer, Oscar Fraley, says that Ness was approached by a member of Cleveland's high society:

"This lady socialite who was working with him came to him and said, 'A member of one of our influential families fits your profile.' So Eliot said, 'That's fine, let's meet him.' This man admitted that he had been to medical school, so Eliot thought surely he had the guy."

Ness said he gave the man two lie detector tests, and both times the suspect failed. Soon after he took the polygraphs, the suspect voluntarily committed himself to a mental hospital. Around that same time, according to Lawrence Scherb, the Torso Slayings in Cleveland abruptly stopped.

Ness believed that this would be the end of the case because the suspect was so deranged that he would probably remain in a mental institution for the rest of his life. But a few months later, a letter arrived from California. Lawrence Scherb has seen it:

"In that letter, the Torso Killer describes the fact that he has left Cleveland and has come to California, as he described it 'sunny California' and is now performing medical experiments upon his guinea pig victims here in Los Angeles."

In the letter, the killer referred to himself as a "D.C.," that is, a Doctor of Chiropractic. In it, the killer said:

"I felt bad operating on those people, but science must advance."

Lawrence Scherb said the letter is just the beginning of the Torso Slayer-Black Dahlia connection:

"The killer apparently had a fetish for cleanliness and cleaned the Dahlia's body very carefully with water, washed it very carefully, shampooed her hair and scrubbed her with a bristle brush so severely that he left bristles embedded in her skin. The Cleveland victims also indicate that there were attempts to clean bodies. A butcher knife was used to bisect the Dahlia. And a butcher knife was used to dismember, decapitate and bisect victims in Cleveland."

Police determined that Elizabeth had been tortured for several hours before being killed. We know that she had been tied up. She had rope burns on her neck, arms, and legs. In Cleveland, several victims had exactly the same type of marks. Also, the Dahlia's body had been arranged in a sexually suggestive position, just like the Torso slayer's victims.

But if the Torso slayer was locked away in an Ohio hospital, how could the murders have continued in other parts of the Midwest and, later, Los Angeles?

Lawrence Scherb wondered if perhaps one crucial point was overlooked by Eliot Ness when the killer entered the hospital:

"If one is voluntarily in a mental hospital, you are free to legally walk out any time you want. And I think that's exactly what he did. I think he used the mental health system most of his career. When things got tough or the investigations heated up, he simply checked himself into a mental institution, waited until they cooled down and then checked himself out again and departed and continued killing."

Eliot Ness never publicly identified the suspect. He took the name with him to the grave.

According to Lawrence Scherb:

"He was the most prolific mass murderer in the history of the United States. And to this day his true identity remains unknown."

Rumors and popular misconceptions

According to newspaper reports shortly after the murder, Elizabeth Short received the nickname "Black Dahlia" at a Long Beach drugstore in the summer of 1946, as a word play on the then-current movie The Blue Dahlia. Los Angeles County district attorney investigators' reports state, however, that the nickname was invented by newspaper reporters covering the murder. Los Angeles Herald-Express reporter Bevo Means, who interviewed Short's acquaintances at the drug store, is credited with first using the "Black Dahlia" name.

A number of people, none of whom knew Short, contacted police and the newspapers claiming to have seen her during her so-called "missing week"—a time period between the time of her January 9 disappearance and the time her body was found on January 15. Police and district attorney investigators ruled out each of these alleged sightings, wherein, in some cases, those interviewed were identifying other women they had mistaken for Short.

Many "true crime" books claim that Short lived in or visited Los Angeles at various times in the mid 1940s; these claims have never been substantiated and are refuted by the findings of law enforcement officers who investigated the case. A document in the Los Angeles County district attorney's files titled "Movements of Elizabeth Short Prior to June 1, 1946" states that Short was in Florida and Massachusetts from September 1943 through the early months of 1946 and gives a detailed account of her living and working arrangements during this period. Although a popular portrayal amongst her acquaintances and many true crime authors was of Short as a call girl, the Los Angeles district attorney's grand jury proved there was no existing evidence that she was ever a prostitute and the district attorney's office attributes the claim to confusion with a prostitute of the same name. Another widely circulated rumor holds that Short was unable to have sexual intercourse because of a congenital defect that left her with "infantile genitalia." Los Angeles County district attorney's files state that the investigators had questioned three men with whom Short had sex, including a Chicago police officer who was a suspect in the case. The FBI files on the case also contain a statement from one of Short's alleged lovers. Found in the Los Angeles district attorney's files and in the Los Angeles Police Department's summary of the case, Short's autopsy describes her reproductive organs as anatomically normal although the report notes evidence of what it called "female trouble." The autopsy also states that Short was not and had never been pregnant, contrary to what had been claimed prior to and following her death.








Submit News/Videos/Links | Discuss article | Article Link | More unsolved mysteries on Unexplained Mysteries