| | | |
| --- | --- | --- |
| | Unexplained Mysteries - Fountain of Youth | |


Source:http://en.wikipedia.org/wiki/Fountain_of_Youth



The Fountain of Youth is a legendary spring that reputedly restores the youth of anyone who drinks of its waters. Florida is often said to be its location, and stories of the fountain are some of the most persistent associated with the state.

A long-standing story is that Spanish explorer Juan Ponce de León, Puerto Rico's first Governor, was searching for the Fountain of Youth when he traveled to present-day Florida in 1513, but the story did not start with him, nor was it unique to the New World. Tales of healing waters date to at least the time of the Alexander Romance, and were popular right up to the European Age of Exploration. The later legend derives from the "Water of Life" tale in the Eastern versions of the Alexander Romance, where Alexander and his servant cross the Land of Darkness to find the restorative spring. The servant in that story is in turn derived from Middle Eastern legends of Al-Khidr, a sage who appears also in the Qur'an. Arabic and Aljamiado versions of the Alexander Romance were very popular in Spain during and after the period of Moorish rule, and would have been known to the explorers who journeyed to America.

There are countless indirect sources for the tale as well. Eternal youth is a gift frequently sought in myth and legend, and stories of things such as the philosopher's stone, universal panaceas, and the elixir of life are common throughout Eurasia and elsewhere. An additional hint may have been taken from the account of the Pool of Bethesda in the Gospel of John, in which Jesus heals a man at the pool in Jerusalem.

The Arawaks and the land of Bimini

The native stories about the curative spring were related to the mythical land of "Beimeni", or Beniny, a land of wealth and prosperity. The spring was purportedly located on an island called Boinca. Although subsequent interpretations suggested the land was located in the vicinity of the Bahamas, the natives were referring to a location in the Gulf of Honduras.

The islands of Bimini in the Bahamas were known as La Vieja during the Ponce expedition. According to legend, the Spanish heard of Bimini from the Arawaks in Hispaniola, Cuba, and Puerto Rico. Sequene, an Arawak chief from Cuba, had purportedly been unable to resist the lure of Bimini and its restorative fountain. He gathered a troupe of adventurers and sailed north, never to return. Word spread among Sequene's more optimistic tribesmen that he and his followers had located the Fountain of Youth and were living in luxury in Bimini. Bimini and its curative waters were widespread subjects in the Caribbean. Italian-born chronicler Peter Martyr d'Anghiera (Peter Martyr) told of them in a letter to the pope in 1513, though he didn't believe the stories and was dismayed that so many others did.



Ponce de León and Florida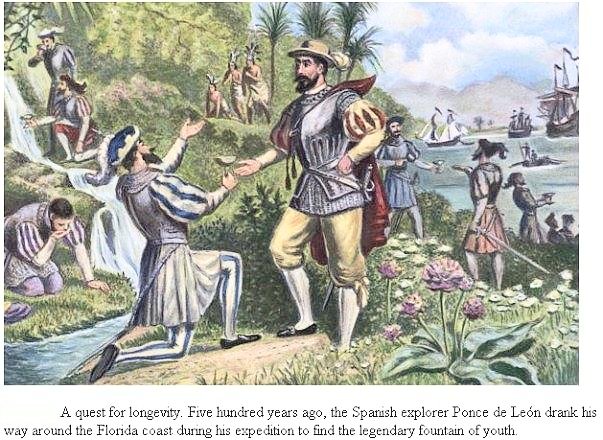 The story continues that Juan Ponce de León heard of the fountain from the people of Puerto Rico when he conquered the island. Growing dissatisfied with his material wealth, he launched an expedition to locate it, and in the process discovered Florida. Though he was one of the first Europeans to set foot on the American mainland, he never found the Fountain of Youth. The story is apocryphal. While Ponce de León may well have heard of the Fountain and believed in it, his name was not associated with the legend in writing until after his death. That connection is made in Gonzalo Fernández de Oviedo's Historia General y Natural de las Indias of 1535, in which he wrote that Ponce de León was looking for the waters of Bimini to cure his sexual impotence. Some researchers have suggested that Oviedo's account may have been politically inspired to generate favor in the courts.

A similar account appears in Francisco López de Gómara's Historia General de las Indias of 1551. In the Memoir of Hernando D'Escalante Fontaneda in 1575, the author places the restorative waters in Florida and mentions de León looking for them there; his account influenced Antonio de Herrera y Tordesillas' history of the Spanish in the New World. Fontaneda had spent 17 years as an Indian captive after being shipwrecked in Florida as a boy.

In his Memoir he tells of the curative waters of a lost river he calls "Jordan" and refers to de León looking for them. However, Fontaneda makes it clear he is skeptical about these stories he includes, and says he doubts de León was actually looking for the fabled stream when he came to Florida. Additionally, Ponce did not mention the fountain in his writings throughout the course of his expedition. It is Herrera who makes that connection definite in the romanticized version of Fontaneda's story included in his Historia general de los hechos de los Castellanos en las islas y tierra firme del Mar Oceano. Herrera states that local caciques paid regular visits to the fountain. A frail old man could become so completely restored that he could resume "all manly exercises… take a new wife and beget more children." Herrera adds that the Spaniards had unsuccessfully searched every "river, brook, lagoon or pool" along the Florida coast for the legendary fountain. It would appear the Sequene story is likewise based on a garbling of Fontaneda.

The very last excursion of Ponce de León ended in the vicinity of the modern Port Charlotte, Florida. Within a very short distance from the site of his last battle lies Warm Mineral Springs. This spring has been in use for thousands of years. It is, therefore, conceivable that his last action was an attempt to reach this artesian well, and to ascertain whether it is the Fountain of Youth.








Submit News/Videos/Links | Discuss article | Article Link | More unsolved mysteries on Unexplained Mysteries