| | | |
| --- | --- | --- |
| | Unexplained Mysteries - Face of mystery medieval knight finally revealed | |

The battle-scarred face of a medieval knight who was killed some 700 years ago has been revealed with the help of forensic skills employed in popular TV shows such as CSI.

The skeleton of the warrior, who was killed at the time of Scotland's Wars of Independence with England, was discovered under the floor of a chapel at Stirling Castle.

Now a team at Dundee University, led by world-renowned forensic anthropologist Professor Sue Black, have revealed what he would have looked like.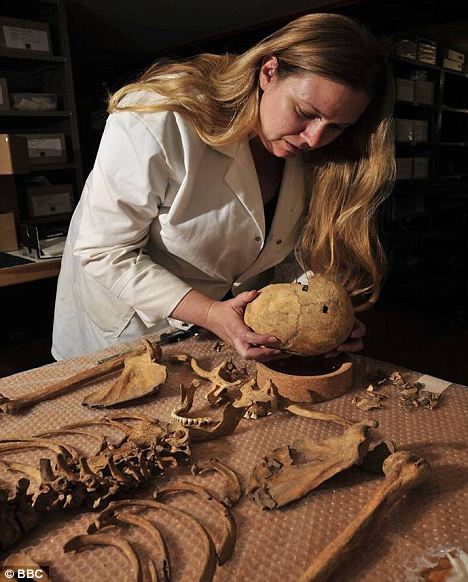 The University of Bradford's Dr Jo Buckberry examines a female skeleton which was found alongside that of the knight underneath the castle chapel



Analysis of the skeleton, which was unearthed in 1997, reveals that when he died the man was in his 20s, was around 5ft 7in and 'very strong and fit, with the physique of a professional rugby player'.

Experts also found he suffered several serious wounds in earlier fights, including an arrowhead lodged in his chest and a dent in the front of his skull from an axe blow, before he was killed by a blow from a sword which went through his nose and jaw.

The researchers believe that he was lying on the ground when he was struck.

Dr Richard Strachan, senior archaeologist at Historic Scotland, said: 'Professor Black and her team have done a great job in finding out more about two of the skeletons.

'The facial reconstruction of the knight gives a powerful impression of what a warrior who died in the 1300s may have looked like.

'He was a very strong and fit nobleman, with the physique of a professional rugby player, who would have been trained since boyhood to handle heavy swords and other weapons and who would have spent a great deal of time on horseback.'

The knight was buried under the floor of the chapel, near the castle's royal apartments, in the early 14th century.

As Stirling Castle changed owners several times, scientific tests have been used to work out whether he might have been a Scotsman, an Englishman or possibly even French.

It has previously been suggested he may have been the English knight Robert Morley, who died during a tournament at Stirling Castle in 1388.



His skeleton was excavated along with nine others, including two infants.

The attempts to discover his identity, and that of a woman buried nearby, will be revealed in an episode of History Cold Case on BBC Two on Thursday.

Dr Strachan said Historic Scotland, which maintains for the castle, was commissioning further research to find out more about the skeletons.

This work will be carried out by Dr Jo Buckberry and Dr Janet Montgomery of the University of Bradford and archaeological scientist Professor Julia Lee-Thorp of Oxford University.

Plans are also being made to include the facial reconstruction, and the other research results, in a permanent exhibition due to open at Stirling Castle next spring.

Dr Strachan added: 'We are building on this work through a project with Dr Buckberry, and her colleagues, to use the latest archaeological techniques to discover more about the lives and origins of all the people found buried in the chapel.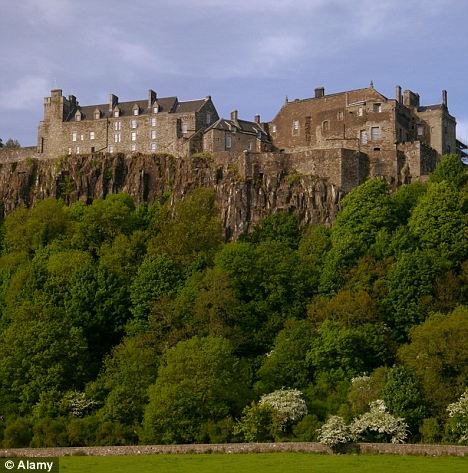 The knight was buried under the floor of the chapel, near Stirling Castle's royal apartments. The castle was an important fortification because of its strategic location next to the River Forth and because by being surrounded on three sides by steep cliffs it held a strong defensive position

'This includes where they were brought up and the food they ate, where they were from, how they died and possibly why they were buried in the castle.'

The research will compare the results from the Stirling skeletons to those of soldiers found in mass graves who were killed at the Battle of Towton, the decisive clash of England's Wars of the Roses, in 1461.

Dr Buckberry, a biological anthropologist, said: 'Techniques have advanced a long way since the skeletons were discovered in 1997 and we can now tell much more about where people came from, their lifestyles and causes of death.

'This group is highly unusual, because of where and when the people were buried, suggesting that they might have been socially important and have died during extreme events such as sieges.

'As the castle changed hands a number of times these are people who could have come from Scotland, England or even France and one of my hopes is that we will be able to find out where at least some of them originated.'

The skeletons, which date from the 13th to 15th centuries, were found during preparatory work for Historic Scotland's £12million refurbishment of the castle's Renaissance royal palace, returning it to how it may have looked in the 1540s.

Gillian MacDonald, executive manager at Stirling Castle, said: 'The BBC's research, and the further investigations we are carrying out, will be an important part of the new exhibitions that visitors will be able to enjoy next spring.

'They will be able to see the reconstruction of the knight, who seems to have survived many terrible wounds before finally being killed.'

Read more: http://www.dailymail.co.uk/news/article-1279306/Face-mystery-medieval-knight-finally-revealed-modern-day-CSI-skills.html#ixzz0oNqt43Jn








Discuss article | Article Link | More unsolved mysteries on Unexplained Mysteries