Get FREE articles:
Unexplained Mysteries

Home > La Pascualita – The Mexican Corpse Bride
| | | |
| --- | --- | --- |
| | La Pascualita – The Mexican Corpse Bride | |

Source : http://www.banderasnews.com/0512/nr-corpsebride.htm

| | |
| --- | --- |
| | |


La Pascualita or Little Pascuala is a bridal mannequin that has "lived" in a store window in Chihuahua, Mexico for the past 75 years. That is quite a long time for a bridal gown shop to retain a mannequin, but then the dummy has a rather strange history behind it. According to an urban legend, La Pascualita isn't a dummy at all, but the perfectly preserved corpse of the previous owner's daughter.

Peering through the glass at a mannequin's veined hands, sparkling eyes and eerie smile, the small crowd gathered outside a store in northern Mexico tries to settle a macabre riddle beguiling many.Is the tall, slender bridal figure in the window a richly detailed shop's dummy or, as a local legend says, the decades-old embalmed corpse of the former store owner's daughter?.

The haunting figure known as 'La Pascualita,' or 'Little Pascuala' first appeared 75 years ago in the window of the bridal gown store in the city of Chihuahua.Since then, the striking realism of the dummy has spawned supernatural tales and reports of a miracle, and even inspired a foot-stomping accordion ballad played on local radio.

The figure has drawn a stream of people from across the desert state of Chihuahua over the past eight decades, and is now attracting curious visitors from South America, the United States and Europe, the owners of the La Popular store say.As cars and trucks rumble by the shop on a busy city street, the entranced visitors smudge their noses up against the store window and try to decide for themselves if it's a corpse.

"She looks good for all the years that she's been here," Yolanda Robles, who trekked to the shop out of curiosity from Phoenix, Arizona, said as she studied the rosary-clutching figurine."There are just so many details, like her hair and the nails on her hand, that it just has to be true," she added.





For years, the story of La Pascualita has been drawing loads of visitors, including media personalities, from all over Mexico to Chihuahua. Now, people from South America, the US and Europe have also started paying visits to the corpse bride. People smudge their noses up against the shop window, staring at the dummy, trying to figure out if she is real or not. They are taken in by her mesmerizing gaze and realistic-looking features. Most people walk away convinced that she has to be real.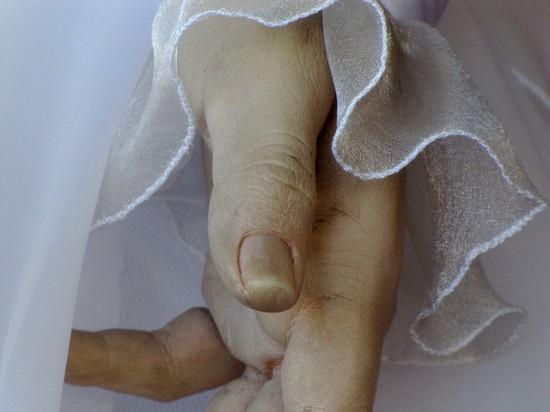 La Pascualita was first installed in the store window on March 25th, 1930, dressed in a spring-seasonal bridal gown. The effect was instantaneous. People simply could not tear their sight away from this new mannequin, with the wide-set glass eyes, real hair and blushing skin tone. Soon, they realized that the mannequin closely resembled the shop's owner at the time, Pascuala Esparza. It didn't take long for them to come to the conclusion that the dummy was in fact the embalmed body of her daughter, who had died recently on her wedding day after being bitten by a Black Widow spider. This revelation did not go very well with the locals, and they started to express their disapproval. But by the time Pascuala could issue an official statement denying the rumors, it was too late. Nobody was willing to believer her. The daughter's name has been lost over time, and 'La Pascualita' stuck through the years.


Of course, the speculated presence of a corpse must naturally be accompanied by supernatural happenings as well. Several odd incidents have been reported around the dummy, none of which have been confirmed, of course. It is said that a love-sick French magician would arrive at night and magically bring it to life, taking her out to town. A few others believe that her gaze shifts and follows them around the store. At night, she is also believed to shift positions in the window. These tales are pretty scary, perhaps most of all to the shop workers who have to see Pascualita every single day.

The ones to leave the shop last are definitely not a happy lot. The dummy's outfits are changed twice a week behind closed curtains. Sonia Burciaga, a shop worker says, "Every time I go near Pascualita my hands break out in a sweat. Her hands are very realistic and she even has varicose veins on her legs. I believe she's a real person." Now, an account like that coming from a person who has actually changed the mannequin's clothes seems very believable. Could Pascualita really be a 75-year-old corpse? I'm terribly curious to see it for myself.






But although most Chihuahua locals are convinced La Pacualita is actually a well preserved corpse, the Internet is full of explanations as to why that couldn't possibly be true. The Museum of Hoaxes, for example, states that " it would be impossible to embalm someone and have their flesh be preserved that perfectly. For some reason, people tend to think that it's easier to preserve a body than it actually is", while one commentator adds "Yeah, bodies really go bad pretty darned fast unless you take some rather heroic measures to keep them from doing so. Both Lenin and Mao have basically been renedered to a state much like rubber, and are kept under extrodinarily monitored conditions. Most of the stuff that undertakers and whatall do is with the aim of making the corpse look good until burial. Anything over a couple weeks, and things start going very, very bad. A taxidermist might manage something, but it ain't gonna be pretty."

Corpse Bride

Through the years the story has bloomed into a tale with all the rich characteristics of magic realist fiction. It all began on March 25, 1930, when the dummy was first placed in the store front window.Dressed in a spring-season bridal gown, the figure immediately gripped the attention of passers by with its disquieting, wide-set glass eyes, real hair and blushing skin tones. Pascualita is unique among other shop mannequins in the sleepy backwater state capital.

Rapt locals soon began to notice a striking resemblance to the shop's then owner, Pascuala Esparza. A rumor quickly spread that the figure was not a dummy, but her daughter who, it was said, died from the bite of a Black Widow spider on her wedding day.

"She started to receive abusive phone calls from angry citizens who accused her of embalming her daughter," the store's present owner Mario Gonzalez said in his office above the wood-paneled shop floor.

"She decided to issue a formal denial through a public notary in the city, but by then it was too late. Nobody believed her and the name 'Pascualita' stuck," he added.





The name of the daughter, if Esparza ever had one, became lost in time.Down the years, the tale has been embellished with claims of supernatural happenings, including visits by a love-sick French magician who is said to bring the dummy magically to life at night, and take her out on the town.

Others say that her gaze follows them around the store, or that she shifts positions at night in the darkened shop window to the surprise of passers by.Spooked by the tales, several jittery shop workers say they dread being the last to leave the store in the evening, and some of them refuse to change the dummy's outfits.

Indeed, twice a week her outfits are changed, always using the more classic bridal styles that Gonzalez and his staff consider more appropriate and dignified. The changing is done - perhaps a bit theatrically - behind curtains put up in the shop window to preserve the dummy's modesty.

"Every time I go near Pascualita my hands break out in a sweat," shopworker Sonia Burciaga said.

"Her hands are very realistic and she even has varicose veins on her legs. I believe she's a real person."

While Pascualita is more of a curio than a religious draw in devoutly Catholic Mexico, a few people have left votive candles outside the shop and even attribute a miracle to her.

"One woman was having a violent argument with her boyfriend close to the store. As she turned to walk away from her lover, he pulled out a pistol and shot her," Gonzalez said."As she fell she looked up and saw the figure in the shop window and said, 'Save me Pascualita, save me!' And you know what? She survived," he adds.

Other tributes to the mannequin have included an altar of sugar skulls, flowers and candles left by local school children each year on November 2 - Mexico's Day of the Dead - and a ballad by popular Tex-Mex combo 'Los Archies.'

Among those to visit the bride have been popular television figures such as Mario Kreutzberger, better known as 'Don Francisco', whose syndicated show has stirred up interest in the figure throughout Latin America.As more visitors come to the shop each year, Gonzalez says he is thinking of getting a visitors' book and even opening a small museum to Pascualita.But asked to settle once and for all whether she is a dummy or a corpse, he just smiles and shakes his head. "Is it true? A lot of people believe it is, but I really couldn't say.










comments powered by

Submit News/Videos/Links | Discuss article | Article Link | More Unsolved and Unexplained Mysteries


More can be addded on request. Direct your requests at vinit@theunexplainedmysteries.com