This famous Hollywood landmark perched atop Mount Lee overlooking the Hollywood hills was originally built in 1923 at a cost of $21,000. It was placed at this location to advertise a real estate development in Beachwood Canyon. Each original letter stood 50 feet high and 30 feet wide. The sign was illuminated by thousands of light bulbs. It was made out of wood and originally read "Hollywoodland". The sign was meant to be temporary.

In 1939 maintenance on the sign was discontinued. In 1944 the original developers gave 455 acres to Los Angeles—this parcel included the sign. The Hollywood Chamber of Commerce rebuilt the sign but did not replace the light bulbs or the last four letters because "Hollywood" was now synonymous with the movie industry. The sign was once again left to deteriorate until the late 1970s when a group of concerned citizens held a fundraiser. The original wooden sign was demolished and a new sign with steel letters replaced it.

The Hollywood sign is considered haunted because of one specific ghost that has been seen many times.

Born Millicent Lilian Entwistle in Port Talbot, Wales, to English parents, Robert Symes and Emily Entwistle , she spent her early life in West Kensington, London. It is often reported that her mother Emily died when she was very young, but there is no documented evidence supporting this. There is, however, a Last Will and Testament dated 15 December 1922, in the Entwistle family archives, in which Robert Entwistle specifically stated that "Millicent Lilian Entwistle is the daughter of my first wife whom I divorced and the custody of my said daughter was awarded to me. I do not desire my said daughter to be at any time in the custody or control of her said mother."

Peg Entwistle reportedly emigrated to America via Liverpool aboard the SS Philadelphia and settled in New York City. However, documents and photographs made available by the Entwistle family for a biography show that Entwistle and her father were in Cincinnati, Ohio, and New York City, in early Spring of 1913. This information is also backed up in the Internet Broadway Data Base, and the New York Times, where Robert S. Entwistle is listed in the cast of several plays in 1913. A close examination of the reported 1916 ship's manifest show that Entwistle and her father were returning to the United States, not emigrating. Peg Entwistle was born Millicent Lilian Entwistle on July 1, 1908 in Port Talbot, Wales. From an early age, Peg's life was filled with tragedy. After the death of her mother when Peg was a child, she and her Father moved to New York where her Father would marry again and have two sons named Robert and Milton.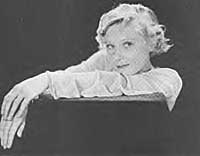 Tragedy would strike again however, when Peg's Father was run over by a car on Park Avenue. After their father's death, Peg's brothers went to live with their Uncle Harold, but Peg stayed behind to pursue her acting career. After making her stage debut at the age of 17 with the Boston repertory company, Peg was soon working on Broadway in the prestigious Theater Guild productions. In 1927, Peg married Robert Keith a man 10 years her senior, but would soon discover that he had been married before and had a six year old son whom he neglected to mention. Oops... just a slight oversight. Revealing her true inner character, Peg, in the process of divorcing Robert, helped him stay out of jail by paying the back alimony he owed his ex-wife.

Peg EntwistleIn 1931, Peg continued her work on the stage in the production Getting Married co-starring Dorothy Gish and in 1932 she co-starred with Laurette Taylor in Alice-Sit-By-The-Fire. However, depression began to set in as she had a hard time finding work on the stage. Peg would eventually move to Hollywood in hopes of finding work in the movies. Upon her arrival in Los Angeles in April of 1932, Peg would move into the Hollywood Studio Club, a rooming hotel for women. She would later move in with her Uncle Harold at 2428 Beachwood Canyon Drive in Hollywood to save money.

Peg would eventually find some stage work with Billie Burke in The Mad Hopes, but sadly, the play closed after a brief run. In 1932, she was thrilled when RKO signed her for the role of Hazel in the murder mystery Thirteen Women starring Irene Dunne, but the film got such poor reviews from critics that the studio held back its general release so it could re-edit the film. Her studio options with RKO were eventually dropped, leaving her to battle depression once again. In 1932 she was offered a part in the production The Mad Hopes" in Los Angeles. She received rave reviews; in fact, she received more attention than Billie Burke and Humphrey Bogart who starred in the play. Peg settled in Los Angeles. Finding only sporadic work she eventually moved into her Uncle Harold's bungalow in Beachwood Canyon for financial reasons.






Peg was overjoyed when RKO offered her the part of Hazel in the film "Thirteen Women" starring Irene Dunne. But the movie opened to poor reviews and when it was re-edited Peg's part mostly landed on the cutting room floor. Upset by the critics' reviews Peg went into a depression. Shortly after this RKO informed her that they were not going to renew her contract, which threw her into an even deeper depression.



In September of 1932 after a night of drinking she told her uncle that she was meeting friends at a local drug store. Instead she walked toward Mount Lee. She placed her coat and purse at the base of the letter "H" at the Hollywood sign and then climbed a maintenance ladder and jumped. She was only 24 years old. Two days later a hiker discovered her coat and purse and then spotted her body. Wanting to remain anonymous he left her coat and purse plus a suicide note he found on the steps of the local Hollywood police station. He left his own note to tell them where her body was located. Peg's suicide note:

"I am afraid I am a coward, I am sorry for everything. If I had done this a long time ago, it would have saved a lot of pain."

In order to discover her identity the local police published a description of Peg and the contents of the note she left in the local papers and requested radio stations describe her and read the note on-air. Peg's uncle came forward to claim her body. Many witnesses have seen Peg's ghost in the vicinity of the Hollywood sign. Park Rangers and hikers over the years have reported seeing a young attractive blonde haired women wearing 1930s style clothing in Griffith Park. All these witnesses note that this ghost appears to be very sad. They often state when they approach her she just disappears.


The Sign

Built in 1923, The famous Hollywood sign was the vision for a real estate development in Beachwood Canyon. The sign originally read "Hollywoodland" and cost $21,000 to construct. The letters, 30 feet wide and 45 feet tall were originally lighted by 4000 light bulbs. However, maintenance was discontinued in 1939 and in 1949 the "Land" portion of the sign was removed. Over the years, the sign would become terribly rundown. Finally, in 1978 the Hollywood Chamber of Commerce restored it with the help of private donations.*

Peg EntwistlePeg Meets the Sign -

On September 18, 1932, after a night of drinking and overwhelming depression, Peg told her Uncle Harold that she was going to walk up Beachwood Drive to meet some friends at the local drugstore. But instead, Peg would scratch and claw her way up the rocky slope of Mt. Lee to the base of the "Hollywoodland" sign. Once there, she removed her black and tan silk coat, folded it neatly and placed it alongside her stylish purse, which contained a suicide note, at the base of the 50 foot high electrician's ladder which led up the letter "H". The despondent actress would then climb up the ladder - losing one of her new shoes along the way - and, after peering out over the twinkling lights of the city that represented her hopes and dreams, perform a perfect swan dive into the ground. Peg was more than likely killed instantly. She was only 24 years old.

A few hours after receiving a call from someone who discovered her belongings, police found Peg's mangled body some 100 feet down the side of the ravine. To this day, Peg Entwistle remains the only documented case of suicide connected to jumping off the Hollywood sign.





The Irony

Shortly after her death, a letter from the Beverly Hills Playhouse would arrived at her Uncle Harold's home addressed to Peg. The Beverly Hills Playhouse wanted her to star in their next production which, ironically, was about a young girl who commits suicide. Cue creepy organ music!

The LA Times published the letter in hopes that she would be identified. She was dubbed "The Hollywood Sign Girl." Her Uncle Harold recognized the initials and identified Peg's body in the morgue. Transcript of a call to the Los Angeles Police Department by an anonymous caller: "I was hiking near the Hollywoodland sign today and near the bottom I found a woman's shoe and jacket. A little further on I noticed a purse. In it was a suicide note. I looked down the mountain and saw a body. I don't want any publicity in this matter, so I wrapped up the jacket, shoes and purse in a bundle and laid them on the steps of the Hollywood Police Station."

Peg's funeral was held at the now demolished W.M. Strothers Mortuary at 6240 Hollywood Boulevard. She was cremated at Hollywood Memorial Park (now called Hollywood Forever.) Her remains were shipped to Ohio for burial at Oak Hill Cemetery, Glendale, Ohio. She was buried with her father on January 5, 1933. It's also worth noting that Peg's ex-husband, Robert Keith, had had a son, Brian, from a prior marriage. Peg's stepson Brian Keith grew up to become a famous actor, best known for his role as "Uncle Bill" on the hit TV show, "Family Affair." Brian Keith also committed suicide in 1997.

Suicide Was Not Her Final Act

In the years following Peg's suicide, hikers and park rangers in Griffith Park have reported some pretty strange happening in the vicinity of the Hollywood sign. Many have reported sightings of a woman dressed in 1930's era clothing who abruptly vanishes when approached. She has been described as a very attractive, blond woman, who seems very sad. Could this be Peg's ghost, still making her presence known? Could she also be linked to the pungent smell of gardenia perfume which has been known to overwhelm sight-seers in the park? Perhaps it is, as the gardenia scent was known to be Peg's trademark perfume.

In 1990, a North Hollywood man and his girlfriend were walking on a Beachwood Canyon trail near the Hollywood sign with their dog when the animal suddenly began to act very strange. Instead of running around on the trail and through the brush as he normally did, he began to whine and hang back near the couple. They had never seen him act that way before and could find no cause until they spotted a lady walking nearby. One thing they noticed about her was that she was wearing clothing from the 1930's. However, thinking that you could see anything in Hollywood, they didn't pay much attention.

The lady however, seemed to be walking in a daze. Thinking that perhaps she was drunk or on drugs, they started to steer clear of her when she suddenly just faded away before their eyes. At that time, they had no idea who Peg Entwistle was, nor that she had committed suicide nearby, or even that her ghost reportedly haunted the area. Imagine their surprise when they found out!

Another eyewitness to this haunting was a Griffith park ranger named John Arbogast. In an interview, he revealed his own encounters with the ghost of Peg Entwistle. He stated that she normally made her presence known very late at night, especially when it was foggy, and always in the vicinity of the Hollywood sign. He also claimed to have encountered the scent of gardenias in the area as well.

"I have smelled it several times," he said, "and always when any flowers around have been closed because of cold weather. I don't think I have ever smelled it in the summer time."

Arbogast's duties as a ranger often involved the Hollywood sign itself. He explained that in recent years, alarms systems have been installed near the sign to keep people away from it. There is always a danger of vandals... and of course, suicides who want to go out the same way that Peg did. The alarm systems incorporate the use of motion detectors and lights to keep intruders away. Arbogast recalled a number of times when the alarm system stated that someone was close to the sign, even though a check by the ranger revealed no one was there. "There have been times when I have been at the sign," he said, "and the motion detectors say that someone is standing five feet away from me... only there's nobody there."

So, what could have made Peg Entwistle choose to end her life in such a dramatic and violent way? No one knows, but we have to wonder. The Hollywood slogan states that the sign exists as a symbol of hope, so that those who answer the siren call of Hollywood will know that anything in the city is possible. But did Peg glimpse that sign one evening, after spending the day going from one pointless casting call to another, and see it not as a symbol of hope, but one of despair? Did she feel that sign mocking her, laughing that so many others had made it in the movies... so why couldn't she?

Devin Morgan, a resident of Beachwood Canyon, also can verify the gardenia connection. One afternoon she was taking an exercise hike up the trail near the sign. As she made her way around one of the switchbacks, she noticed the figure of a woman on another part of the trail.

"She looked very strange to me," Morgan said. "She had a very etheric quality. Instead of walking, she seemed to almost glide. She wasn't floating... she didn't look like she was a ghost, but there was something very, very strange about her, and very soft looking." Morgan attempted to catch up with this woman, but she had vanished, and the only thing in her place was the intense scent of gardenias. Most recently, four friends encountered the ghost, a story that was featured on Syfy's Paranormal Witness. The friends -- Tina, Alain, Brian, and Al -- after a game at Dodger Stadium, decided to go touch the famous Hollywood sign. Although the area is off-limits to trespassers, they jumped the fence and headed up.

On their way back down, Brian slipped and fell part way down the hill. As he began to make his way back toward the others, he saw someone on the path walking toward him. "It was a woman, wearing a dress similar to the style of the 1930s," according to the Syfy story. "She wore heels and a veil over her face. She walked effortlessly up the hill. Her footsteps made no sound." It was only later that they read about the story of Peg Entwistle.

Did the glowing lights of the sign remind her of why she had come to Hollywood, chasing the bright lights she would never catch up to? Or perhaps she just wanted to go out in a way that people would remember?










comments powered by

Submit News/Videos/Links | Discuss article | Article Link | More Unsolved and Unexplained Mysteries