World's smallest girl – Jyoti Amge – American Horror Story 4
At just 1ft 11 in tall, she is dwarfed by her neighbour's baby, but Jyoti Amge is 15 years old.
The teenager, who is the world's smallest girl according to the Indian Book of Records, has a form of dwarfism called achondroplasia. Now fully grown, she weighs just 11 lb. Far from being unhappy about her tiny size, Jyoti says that she enjoys the celebrity status her height has brought her. "I am proud of being small. I love the attention I get," she told the Sunday Mirror.
"I'm just the same as other people. I eat like you, dream like you. I don't feel any different."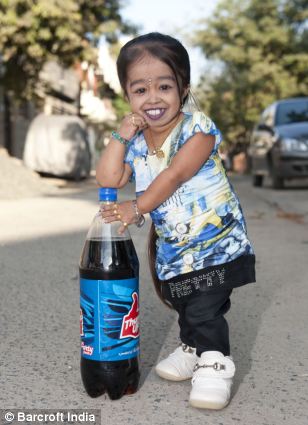 Jyoti attends her local high school, in Nagpur, India, where she studies alongside classmates of her own age, though she sits at a specially made miniature desk. Her mother, Ranjana, 45, explained that her daughter's condition was not apparent until some time after her birth.
"When Joyti was born she seemed quite normal. We came to know about her disorder when she was five," she said. "Jyoti is small, yet cute, and we love her very much."
Like any other teenager, she loves listening to pop music and watching DVDs and even hopes to become a Bollywood actress. She has recently recorded an album with her favourite Indian pop star, Mika Singh.
Jyoti Amge, world's shortest living woman from India, is set to join the fourth season of American Horror Story, showrunner Ryan Murphy announced on Twitter. Amge, 20, is the world's smallest living woman, according to the Guinness Book of World Records. She earned the title on her 18th birthday with a height of two feet, 0.6 inches, said the Hollywood Reporter.
Season four of the series, subtitled Freak Show, is set in Jupiter, Florida, in the 1950s, with Jessica Lange in the lead role. "Jessica and our newest cast member Jyoti Amge… the world's smallest woman," Murphy posted on Twitter with a picture (above).
Amge was previously featured in a 2009 documentary, Body Shock: Two Foot High Teen. She was a guest on Bigg Boss 6, an Indian version of international reality show Big Brother.
Amge will have a four-episode arc in the show, playing the mother to Gabourey Sidibe's character. Besides Amge other newcomers on the show are Michael Chiklis, The Hunger Games actor Wes Bentley, Fargo star John Carroll Lynch and The Normal Heart actor Finn Wittrock.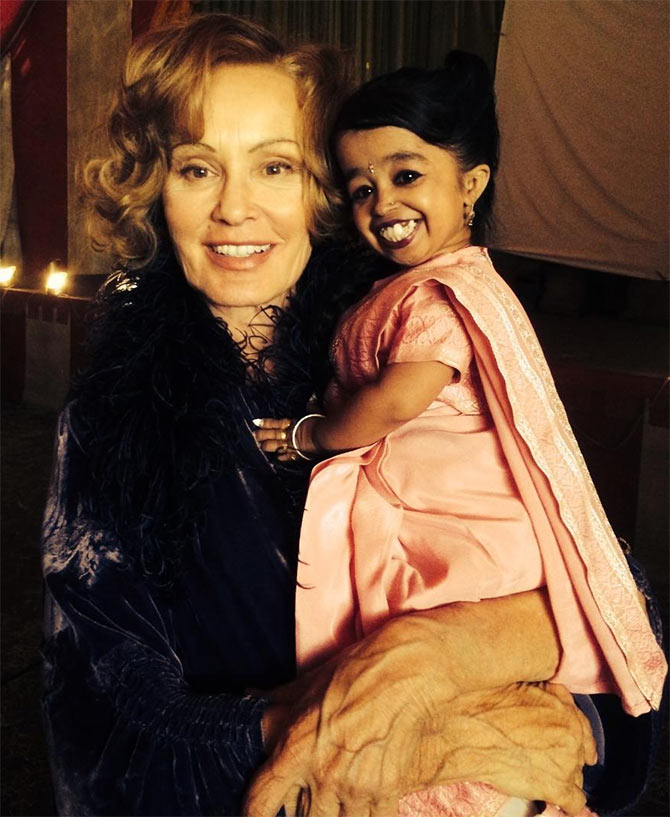 Image: Jessica Lange with Jyoti Amge
She might be tiny, but she has big ambitions. Jyoti Amge, 19, who is just 24.7ins tall, joined a cast of models and bit-part actors in a mud hut built to house the contestants last night. She hopes to use her appearance on Bigg Boss to show off her acting skills.
'I am participating in the show because I want to have a career in Bollywood,' she said. 'These people contacted me through email and I couldn't say no to them because I watch the show religiously. 'I will not fight with anyone on the show and will come out as a winner.'
Ms Amge, from Nagpur in central India, is no stranger to the limelight. Roughly the size of a one-year-old baby, she attracts crowds of curious onlookers wherever she goes.
The teenager has already appeared on game shows, in music videos and has been the subject of two critically acclaimed documentaries.Admitting to a crush on the show's host, Bollywood superstar Salman Khan, Jyoti said her dream was to star in a movie with the action hero.
Jyoti Amge, who turned 18 on Friday, was officially declared the world's shortest living woman (measuring less then two feet one inch) by the Guinness World Records, barely two years after she was adjudged the shortest living girl in 2009 as a 16-year-old. Amge took the title as she celebrated her birthday with family members and friends at her residence in Hiwri Nagar in eastern part of city, located some 830 km from India's financial capital Mumbai by road. Official adjudicator for Guinness World Records, Rob Molloy, who was in city for the last two days, measured her height thrice during his stay at different time, considering the variations that could occur in height at different time of the day.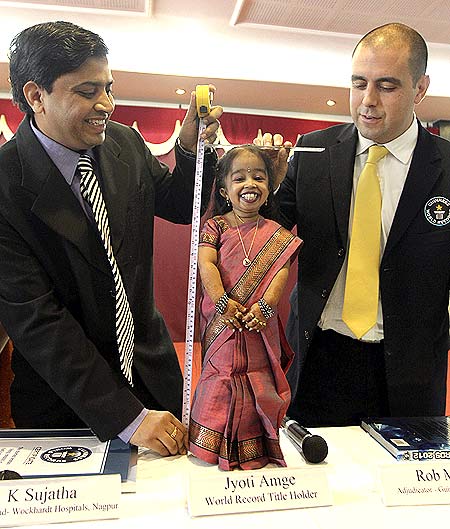 Amge, who finished her high school some time back, has a form of dwarfism called achondroplasia that has restricted her height to that of an average four-month-old infant. She has already featured in a Japanese film and another produced by National Geography channel, family sources said. Bridgette Jordan, 22, of the US was declared the shortest living woman in September this year measuring 69.49 cms but her record could not last long as Amge turned 18 and thus became eligible to be considered for the title.
Before Jordan, the record for the shortest living woman was held by Elif Kocaman of Kadirli, Turkey, who is 28.5 inches tall. The record for shortest woman who ever lived was Pauline Musters, of the Netherlands, who measured 24 inches when she died from pneumonia at the age of 19 in 1895.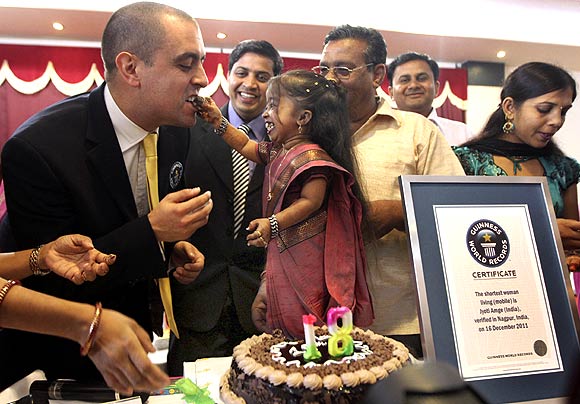 Her mum, Ranjana Amge, 45, said: 'When Jyoti was born, she seemed quite normal. We came to know about her disorder when she was five.
'We consulted a specialist and he said she will be this size all of her life. Jyoti is small, yet cute, and we love her very much.'
Jyoti is ambitious and hopes to work as a Bollywood actress one day.She said: 'I would love to work in a big city like Mumbai, act in films and travel to London and America.
I'm proud of being small. I love all the attention I get because of it.'Her dad, Kishanji Amge, 52, said: 'I can't separate myself from her even for a single day. I love her very much.'She makes me proud. Lots of gurus come to see and bless her. They pray for her happiness and long life.'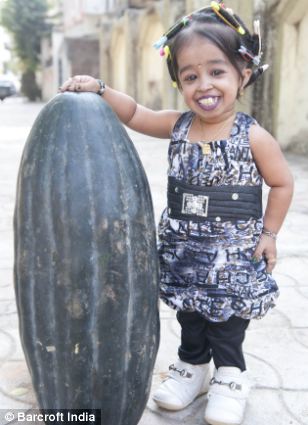 Jyoti Amge has been named as the world's smallest woman, as she celebrates her 18th birthday. The world's tiniest teenager is proud of her diminutive stature: "I love all the attention. I'm not scared of being small," the Daily Mirror quoted her as saying. Her form of dwarfism is called achondroplasia, and it meant that she stopped growing after her first birthday.
She was born weighing barely three pounds and was not supposed to survive for more than 10 minutes. "Even up to a full nine months, the child could not be seen on the scan", Kishanji Amge, Jyoti's father, reminisced. Amge lives in Nagpor, India, with her parents and four siblings. Her parents watched as she was presented with a certificate in her home town. "It is wonderful to celebrate my 18th birthday with a new world record, it's like an added birthday present," she said.
Amge, who measures 23 and a half inches top to toe, snatched the title from American Bridgette Jordan, who stands 27 inches tall.
The shortest woman ever recorded was Pauline Musters (1876-1895) of the Netherlands, who stood at 61cm.
Discuss and comment on article