Source: http://paranormal.about.com/od/timeanddimensiontravel/a/aa012306_3.htm
http://en.wikipedia.org/wiki/Time_travel
Time travel is the concept of moving between different points in time in a manner analogous to moving between different points in space, either sending objects (or in some cases just information) backwards in time to some moment before the present, or sending objects forward from the present to the future without the need to experience the intervening period (at least not at the normal rate).
Although time travel has been a common plot device in fiction since the 19th century, and one-way travel into the future is arguably possible, given the phenomenon of time dilation based on velocity in the theory of special relativity (exemplified by the twin paradox), as well as gravitational time dilation in the theory of general relativity, it is currently unknown whether the laws of physics would allow backwards time travel.
Any technological device, whether fictional or hypothetical, that is used to achieve time travel is commonly known as a time machine.
Some interpretations of time travel also suggest that an attempt to travel backwards in time might take one to a parallel universe whose history would begin to diverge from the traveler's original history after the moment the traveler arrived in the past.
Time machines might only be available in the movies, yet many people have experienced unexplained events that seem to be temporary but very real slips into the past and the future
Where and to what date would you go if you could travel through time? It's a question people have long enjoyed contemplating – the possibilities are so fraught with wonder and excitement. Would you watch the pyramids of Egypt being build? Join the spectacle of a gladiatorial battle at the Roman Coliseum? Catch a glimpse of real dinosaurs? Or would you prefer to see what the future holds for humankind?
Such fantasies have fueled the success of such stories as H.G. Welles' The Time Machine, the Back to the Future movies, favorite episodes of "Star Trek" and countless science fiction novels.
And although some scientists think that it might be at least theoretically possible to travel through time, no one (as far as we know) has devised a sure-fire way to make it happen. But that's not to say that people haven't reported traveling through time. There are many fascinating anecdotes from those who say they seem to have quite unexpectedly visited – if only briefly – another time and, sometimes, another place. These events, often called time slippages, seem to occur randomly and spontaneously. Those who experience these events are often bewildered and confused by what they see and hear, and afterward are at a complete loss to explain them.
Here are some interesting cases that will keep you wondering:
FLIGHT INTO THE FUTURE
In 1935, Air Marshal Sir Victor Goddard of the British Royal Air Force had a harrowing experience in his Hawker Hart biplane. Goddard was a Wing Commander at the time and while on a flight from Edinburgh, Scotland to his home base in Andover, England, he decided to fly over an abandoned airfield at Drem, not far from Edinburgh. The useless airfield was overgrown with foliage, the hangars were falling apart and cows grazed where planes were once parked. Goddard then continued his flight to Andover, but encountered a bizarre storm. In the high winds of the storm's strange brown-yellow clouds, he lost control of his plane, which began to spiral toward the ground. Narrowly averting a crash, Goddard found that his plane was heading back toward Drem. As he approached the old airfield, the storm suddenly vanished and Goddard's plane was now flying in brilliant sunshine. This time, as he flew over the Drem airfield, it looked completely different. The hangars looked like new. There were four airplanes on the ground: three were familiar biplanes, but painted in an unfamiliar yellow; the fourth was a monoplane, which the RAF had none of in 1935. The mechanics were dressed in blue overalls, which Goddard thought odd since all RAF mechanics dressed in brown overalls. Strange, too, that none of the mechanics seemed to notice him fly over. Leaving the area, he again encountered the storm, but managed to make his way back to Andover. It wasn't until 1939 that that the RAF began to paint their planes yellow, enlisted a monoplane of the type that Goddard saw, and the mechanics uniforms were switched to blue. Had Goddard somehow flown four years into the future, then returned to his own time?
CAUGHT IN A TEMPORAL VORTEX

Dr. Raul Rios Centeno, a medical doctor and an investigator of the paranormal, recounted to author Scott Corrales a story told to him by one of his patients, a 30-year-old woman, who came to him with a serious case of hemiplegia – the total paralysis of one side of her body. "I was at a campground in the vicinity of Markahuasi," she told him. Markahuasi is the famous stone forest located about 35 miles east of Lima, Peru. "I went out exploring late at night with some friends. Oddly enough, we heard the strains of music and noticed a small torch-lit stone cabin. I was able to see people dancing inside, but upon getting closer I felt a sudden sensation of cold which I paid little attention to, and I stuck my head through an open door. It was then that I saw the occupants were clad in 17th century fashion. I tried to enter the room, but one of my girlfriends pulled me out." It was at that moment that half of the woman's body became paralyzed. Was it because the woman's friend pulled her out of the stone cabin when she was half entered into it? Was half her body caught in some temporal vortex or dimensional doorway? Dr. Centeno reported that "an EEG was able to show that the left hemisphere of the brain did not show signs of normal functioning, as well as an abnormal amount of electric waves."
HIGHWAY TO THE PAST
In October, 1969, a man identified only as L.C. and his business associate, Charlie, were driving north from Abbeville, Louisiana toward Lafayette on Highway 167. As they were driving along the nearly empty road, they began to overtake what appeared to be an antique car traveling very slowly. The two men were impressed by the mint condition of the nearly 30-year-old car – it looked virtually new – and puzzled by its bright orange license plate on which was stamped only "1940." They figured, however, that the car had been part of some antique auto show. As they passed the slow-moving vehicle, they slowed their car to get a good look at the old model. The driver of the old car was a young woman dressed in vintage 1940s clothing, and her passenger was a small child likewise dressed. The woman seemed panicked and confused. L.C. asked if she needed help and, through her rolled up window, indicated "yes." L.C. motioned for her to pull off to the side of the road. The businessmen pulled ahead of the old car and turned onto the shoulder of the road. When they got out… the old car had vanished without a trace. There were no turnoffs or anywhere else the vehicle could have gone. Moments later, another car pulled up to the businessmen and, quite puzzled, said he had seen their car pull off to the side… and the old car simply vanish into thin air. (See Time Traveller for more details on this story.)
THE FUTURE ROADHOUSE
One night in 1972, four coeds from Southern Utah University were driving back to their dorm in Cedar City after spending the day at a rodeo in Pioche, Nevada. It was about 10 p.m. and the girls were eager to get back to their dorm before curfew. They were traveling along Highway 56, which has a reputation for being "haunted." A while after taking a fork in the road that turned to the north, the girls were surprised to see that the black asphalt had turned into a white cement road that eventually ended abruptly at a cliff face. They turned around and tried to find their way back to the highway, but soon became concerned about the unfamiliar landscape – red canyon walls that gave way to open grain fields and pine trees, which they had never encountered before in this part of the state. Feeling completely lost, the girls felt some comfort when they approached a roadhouse or tavern. They pulled into the parking lot and one of the passengers poked her head out the window to get directions from a few "men" coming out of the building. But she screamed and ordered the driver to get out of there – fast. The girls sped off, but realized they were being chased by the men in strange, tri-wheeled, egg-shaped vehicles. Speeding again through the canyon, the girls seemed to have lost their pursuers and found their way to the familiar desert highway. The reason for the scream? The men, she said, weren't human. (See Utah's Time/Space Warp Canyon Encounter for more details.)
HOTEL TIME WARP
Two British couples vacationing in the north of France in 1979 were driving, looking for a place to stay for the night. Along the way, they were struck by some signs that seemed to be for a very old-fashioned type of circus. The first building they came to looked like it might be a motel, but some men standing in front of it told the travelers it was "an inn" and that a hotel could be found down the road. Further on, they did find an old-fashioned building marked "hotel." Inside, they discovered, almost everything was made of heavy wood, and there seemed to be no evidence of such modern conveniences as telephones. Their rooms has no locks, but simple wooden latches and the windows had wooden shutters but no glass. In the morning, as they ate breakfast, two gendarmes entered wearing very old-fashioned caped uniforms. After getting what turned out to be very bad directions to Avignon from the gendarmes, the couples paid a bill that came to only 19 francs, and they left. After two weeks in Spain, the couples made a return trip through France and decided to again stay at the interesting if odd but very cheap hotel. This time, however, the hotel could not be found. Certain they were in the exact same spot (they saw the same circus posters), they realized that the old hotel had completely vanished without a trace. Photos taken at the hotel did not develop. And a little research revealed that French gendarmes wore uniforms of that description prior to 1905.
PREVIEW OF AN AIR RAID
In 1932, German newspaper reporter J. Bernard Hutton and his colleague, photographer Joachim Brandt, were assigned to do a story on the Hamburg-Altona shipyards. After being given a tour by a shipyard executive, the two newspapermen were leaving when they heard the drone of overhead aircraft. They at first thought is was a practice drill, but that notion was quickly dispelled when bombs began exploding all around and the roar of anti-aircraft gunfire filled the air. The sky quickly darkened and they were in the middle of a full-blown air raid. They quickly got in their car and drove away from the shipyard back toward Hamburg. As they left the area, however, the sky seemed to brighten and they again found themselves in the light of a calm, ordinary late afternoon. They looked back at the shipyards, and there was no destruction, no bomb-induced inferno they had just left, no aircraft in the sky. The photos Brandt had taken during the attack showed nothing unusual. It wasn't until 1943 that the British Royal Air Force attacked and destroyed the shipyard – just as Hutton and Brandt had experienced it 11 years earlier.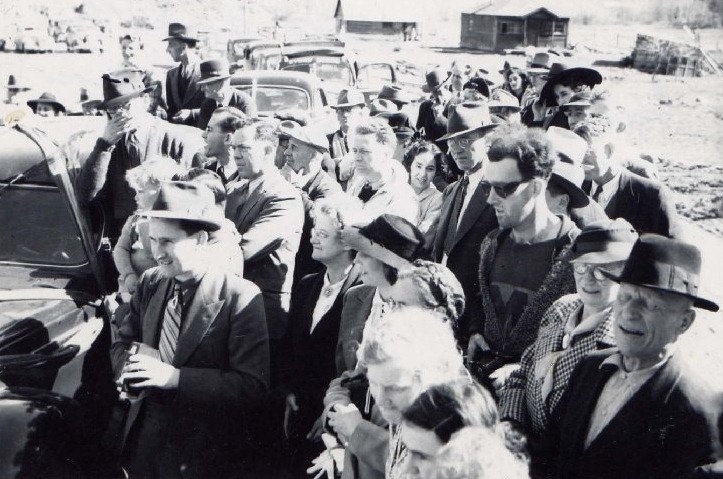 A Blip in Reality

In 1991, Glenn was a university student in Nova Scotia. What began as an ordinary bus trip back to his home town to visit his parents turned into a confusing distortion of time and space.
"I sat at the back of the bus and there was nobody around me," says Glenn, "but there was a family sitting behind the driver in the front. The bus ride was uneventful until we came close to my parents' home town. I was looking out the window and looked at the Michelin tire factory as we went by it going uphill. When the bus reached the top of the hill, I got a strange feeling, and for some unknown reason I started to imagine many people on the bus laughing at me!
"Right then there was a blip in reality and the bus was suddenly about a mile back on the highway! I then had the experience of watching the bus drive by the tire factory again! This kind of scared me and I noticed that the family sitting in the front, who were talking loudly before, were now dead quiet.
"I approached the bus driver when we stopped and told him what I thought happened. He looked really nervous and he said something like, 'Things like that happen.'"
A Brief Leap in Time
The bus driver was right, apparently. Things like that do happen. Just ask Sue, who in the autumn of 1994 was driving with her boyfriend Jim to their home in Fallbrook, California when they might have narrowly escaped a larger rift in time.
"There are two roads into Fallbrook," says Sue, "from the north and from the south. We approached from the south heading north on Mission Rd., which is a four-mile, curvy, two-lane road. It was a Friday evening and I blurted out how weird it was that we hadn't passed any cars in the opposite direction since our turn onto Mission Rd. Fallbrook is a small town, but this was a very well-traveled road.
"I knew it was 6:24 because I had just looked at the big amber display on the stereo when all of a sudden the car died, the pedal went hard and the lights went off. I remember feeling confused, thinking that we ran out of gas, yet knowing that we had plenty of fuel. We coasted off to a dirt turnout immediately ahead. Jim asked what happened and I had no answer, but I felt like I had just dozed off or had gone through Jello or… I don't know what.
"I put it in gear, Jim jumped out, came around to my side and opened the door. I jumped into the passenger seat, he got in, cranked it over and – vroooom! – off we went. As we pulled away I felt irritated, a little nervous, but sure something really weird had just happened. Then I glanced at the clock on the stereo again. It was 6:36 p.m. Twelve minutes had passed when, being generous, the whole incident couldn't have taken more than 1½ minutes, max."
He Got There Before He Arrived
We are used to time progressing in a linear fashion, one event leading to another. Strangely, it doesn't always work like that. Consider the experience of Eula White in rural Alabama when she was a young girl in the 1920s.
"In those days," Eula says, "rural Alabama was still kind of backward. Little electricity, and horses and wagons the only transportation for many farm folk. I remember it was a bright summer day. Early that morning the other women and I had gathered on the front porch of the Hawkins' farmhouse to shell quite a few bushels of peas and beans.
"About mid-afternoon we were still on the porch shelling peas. We looked up and saw Mr. Hawkins approaching the house. Thrown across the saddle in front of him was a large white, cloth sack of flour, and cradled in his left arm was a brown bag of other groceries. We watched as he rode up to the gate, and he stopped there, waiting for someone to open it. One of the boys ran to the gate and opened it. Then, in full view of all of us women and children, Mr. Hawkins vanished! He just disappeared, instantly!
"We sat there for a second or so, just astonished. Then, terrified, we began screaming. After a few minutes, we calmed down, but were still shaking and confused. We just didn't know what to do. So after a while we went back to shelling peas. Mrs. Hawkins made one the boys close the gate.
"About a half hour later, we looked up and again saw Mr. Hawkins riding toward the house with that same white sack of flour across the saddle in front of him and that same brown bag of groceries in his left had. Again he rode up to the gate without a sound and stopped. None of us had the nerve to open the gate. We were all just too afraid to move. We just sat there staring at him, waiting to see what would happen next. Finally, to our relief, Mr. Hawkins spoke: 'Well, is someone going to open the gate for me?' Mr. Hawkins got there before he arrived."
Instant Replay
A similar replay of time happened to Ryan Bratton at the age of eight. It was an otherwise ordinary day for him and his friend as they were sitting in his yard while other kids rode their bikes up and down a driveway.
"A car came down the road and stopped at a house," Ryan remembers. "A kid got out and ran inside making noises that kids around his age make. Then a girl rode her bike down the driveway.
"A couple of minutes after this happened, the SAME car went down the road, stopped at the house, and the SAME kid got out of the car and ran inside screaming the EXACT things he had been saying. Then the girl went down the hill on her bike AGAIN. I looked over to my friend and he said he had no idea what had just happened."
Journey to the Past…
The most amazing experiences of slips in time, perhaps, are those in which people actually see, hear and even interact with other people and things that seem to have been in another space and time.
John was a six-year-old in Stoke-on-Trent, England when his brush with the past occurred. He was on his way to school with his friend when they stopped to watch some builders working on some new houses. As they approached the site, they noticed an old cottage nearby. An old lady came out and offered John and his friend some lemonade, and they went into her house.
After leaving the cottage, they continued on to school, only to discover that it was almost 4 o'clock and school was just closing. They had left home at 1:30 p.m. on a journey that should have taken about 20 minutes!
The next day, John and his friend took the same route to school, but to their amazement there was no sign of any cottage or the old lady they had seen the previous day.
The only explanation seems to be that John and his friend experienced some sort of time slip in which for a few hours they were transported back to an earlier time when indeed a cottage – and its occupant – did exist on that land.
…and to a Future City
As strange as it was, it may be easier to understand John's experience with something that has already taken place than it is to comprehend Daisy's encounter with a place that doesn't yet exist – and may not for centuries.
Daisy and her friend Rick were driving to another friend's house in September of 2004 in Rick's beat up old truck. "Suddenly, the truck's engine died and Rick and I were stranded on a deserted highway in the middle of the night," Daisy says. "We were surrounded on both sides of the road by cornfields that stretched into the distance.
"Rick began a desperate effort to restart the truck, but nothing seemed to work. We decided to walk to the nearest town about two miles away to find a payphone to call our friend. We walked for what seemed like hours and the town was nowhere in sight.
"However, just when desperation was about to grip us, we saw a light, a gloriously bright light, shining over the steep hill ahead of us. We ran up the hill that blocked us from the light and were flabbergasted by what we saw. Just over the hill, Rick and I saw what could only be described as a futuristic city with lights streaming out of every window of the massive, metallic towers. In the middle of the futuristic city was a huge silver dome.
"I stared at the city, stunned, until Rick elbowed me, which pulled me out of my trance and he pointed to the sky. Hovering above the city were hundreds of hovercraft. One flew toward us with amazing speed.
"Rick and I were so scared that we took off running back to the broken down truck. I never looked back, but I felt someone watching me the whole way. When we got back to the truck, it started without difficulty. Rick and I took off as fast as we could in the opposite direction. We never went back or spoke of it again to this day."