Unsolved Mysteries of Zone of Silence
There exist a number of "accursed sites" on the surface of our planet. Some of these locations are the sites of gravitational or atmospheric disturbances that still remain unexplained by twentieth century science. Such anomalous areas possess properties which interfere sporadically with humans and their equipment. One area worthy of mention surrounds the Mediterranean island of Elba (famous for being Napoleon's first place of exile), and is the bane of maritime aviation in the Mediterranean; another spot is Mt. Stredohori in Czechoslovakia, where an unknown force drains car engines of power throughout the length of a 75-foot stretch of road.
However, we need not travel so far to encounter a part of the world that is even more perplexing than these others, although it remains little known to most people: Mexico's mysterious, magical zona del silencio–the Zone of Silence, just four hundred miles away from El Paso, Texas. Deserts are often considered to be mysterious enough without the added weirdness that this patch of earth some four hundred miles from El Paso has to offer. It is a place which gobbles up radio and TV signals, and which has of late been associated with the UFO phenomenon.
There is much about our world that we still do not understand. Scientists tell us that natural mysteries abound in every corner of the Earth, from the lifeless desert of Chile to the bottomless depths of the Pacific, there are things we simply do not comprehend.
Perhaps this is the best way to describe a place in northern Mexico in the middle of the hot, searing, punishing Chihuahuan desert, a place commonly called the "Zone of Silence" (Zona-del-Silencio) by the few locals, scientists, students and visitors that wander there from time to time in search of answers. It is a strange place to experience, one of those mysterious natural wonders that beg our attention and muddle our senses. It is sometimes difficult to tell what is truth and what is not; to recognize what you see as real or not.
Drive 400 hundred miles west of El Paso and you enter into an unforgiving section of foreboding semiarid desert landscape that begs for mercy but offers none. The nearest settlement is Ceballos, a ragtag community that holds on precariously to its existence some 25 miles across the barren plain from the heart of "The Zone". Here life is challenging, and there is a constant, delicate balance between death and survival.
The region has remained all but undiscovered by the outside world. There are no fancy hotels in the Zone, no beaches or pools, no life except for the most hardy of insects, reptiles and small mammals that suffer its tormenting weather.
But in 1970 a faulty American Athena missile fired from the White Sands Missile Base in nearby New Mexico went off course inexplicably and crashed into the mysterious desert region and made the world aware of the unique and apparently unusual properties of the area. Subsequently a team of U.S. Air Force investigators, with Mexican government approval, journeyed to the crash site and made an unexpected discovery. Within an unspecified and sometimes shifting area within the Zone, radio signals fail to travel through the air, creating a type of dark zone. No television, radio, short wave, microwave, or satellite signals seem to penetrate this zone. The name, Zone of Silence, was quickly adopted, and researchers began flocking to the remote location shortly thereafter.
The Mexican government has since constructed a research complex in "the Zone", a place the scientists assigned there call the biosphere. The primary purpose of the research facility is to study the plant and animal life of the unusual region. But rumors have it that a lot more research is going on there than meets the eye – if there were any eyes in this remote part of the world to see it.
It turns out there may be some natural anomaly associated with the region. High levels of magnetite have been discovered there, and scientist have also found that the area is a hot bed for meteorite activity, raising speculation that there may be some unusual magnetic properties associated with the minerals in the chalky soil. Researchers have been trying to determine whether magnetic ore is naturally occurring or is the product of contamination from thousands or millions of years of meteorite bombardment. And if the high-magnetic properties are a result of natural causes, could this be the reason that so many iron-rich objects from space find their way to this remote spot on Earth?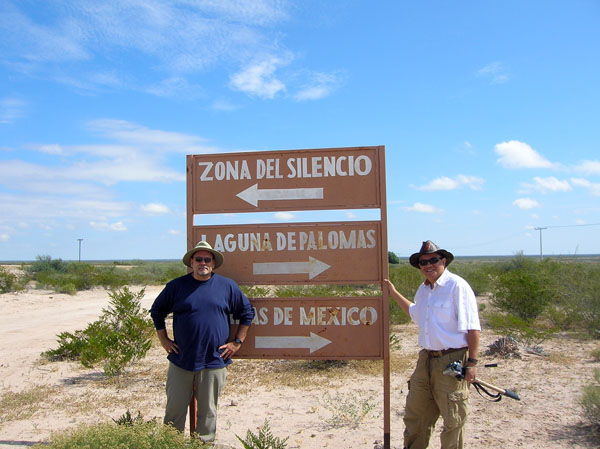 Theorists are quick to point out that the Zone is geographically located just north of the Tropic of Cancer and shares the same latitude south of the 30th parallel as the
Bermuda Triangle
, a fact scientist point out is probably a simple coincidence. In fact, scientists at the Mexican research center have dubbed the region, the Mar de Tetys, or The Sea of Thetys, because at one time, millions of years ago, the area lay at the bottom of an ocean.
In defense of the theorists, there have been a number of unusual tales that have come out of the Zone. Strange lights, floating orbs, burning bushes, flying saucers, and alien encounters have all been reported with a degree of abundance considering the sparse population of the region. Ranchers of the area report the night sky is often filled with mysterious lights, and they have reported "floating aircraft" that allegedly landed vertically in the desert, often causing brush to ignite and catch fire.
And there have been reports of encounters with strange humanoid creatures. One ranch family claims they are regularly visited by a trio of blonde, long haired humanoids, two males and a female, that speak perfect Spanish. As the story goes, the visitors only ask for water, never for food or other provision. And when asked once by the rancher where they came from, they reportedly answered "from above".