YOGTZE-Fall: The Unsolved Murder Mystery of Günther Stoll
One of Germany's greatest unsolved murder mysteries is the bizarre case of Günther Stoll, a case otherwise known as YOGTZE-Fall.
Stoll was an ordinary, unemployed food technician from Anzhausen in Germany. Well, maybe he was a little paranoid. He believed he was being stalked, and often talked about "them," telling his wife that eventually "they" were going to kill him. But no one ever knew who "they" were. So, as the story goes, on the evening of October 25, 1984, while sitting quietly in his bedroom, Stoll unexpectedly jumped out of his chair and exclaimed, "I've got it!"
His wife watched, confused, as Stoll grabbed a piece of paper and scribbled down six letters: YOGTZE. The "G" may have been a "6," but he immediately crossed the letters out, anyway.
Afterwards, he left the house. He jumped into his Volkswagen Golf and went to a pub in Wilnsdorf, where he sat down at a stool and ordered a beer. Before he could do anything with it, however, he fell backwards onto the floor and injured himself. Witnesses say he didn't appear to be intoxicated. This occurred at around 11:00 p.m.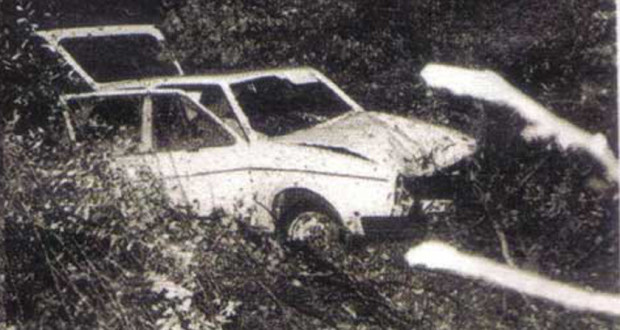 A Murder is Announced
Fast forward about two hours later, around 3:00 a.m. Two truck drivers discovered Stoll's Volkswagen in a ditch off Autobahn A 45. It was wrecked. They pulled over to assist and notified the police using a nearby emergency telephone. What they found at the scene was Günther Stoll, still in his car, completely naked and barely conscious.
He told the two truck drivers that there had been four other men in the car with him, and they'd just taken off. They asked him if the other men were his friends, and he said no. Not long after that, an ambulance arrived. Stoll died before reaching the hospital.
This is where things get strange (well, stranger). An investigation into his death revealed that Günther Stoll had not died from the car accident. Instead, he had been run over by a different car at another location.
Police Investigations and Shocking Revelations
As it happens in these cases, criminal investigations only added to the mystery, showing that Stoll had neither died from the car crash nor from assault by the four men, but he was run down by a different car in a different locale. When he was run over, he was already naked, and after the accident, he was placed in his own car's passenger seat and driven to the trench where his body was later found. Other people spoke of a hitchhiker who was seen in the driveway on the day of the crash, but neither the hitchhiker nor the man in the white jacket were ever identified.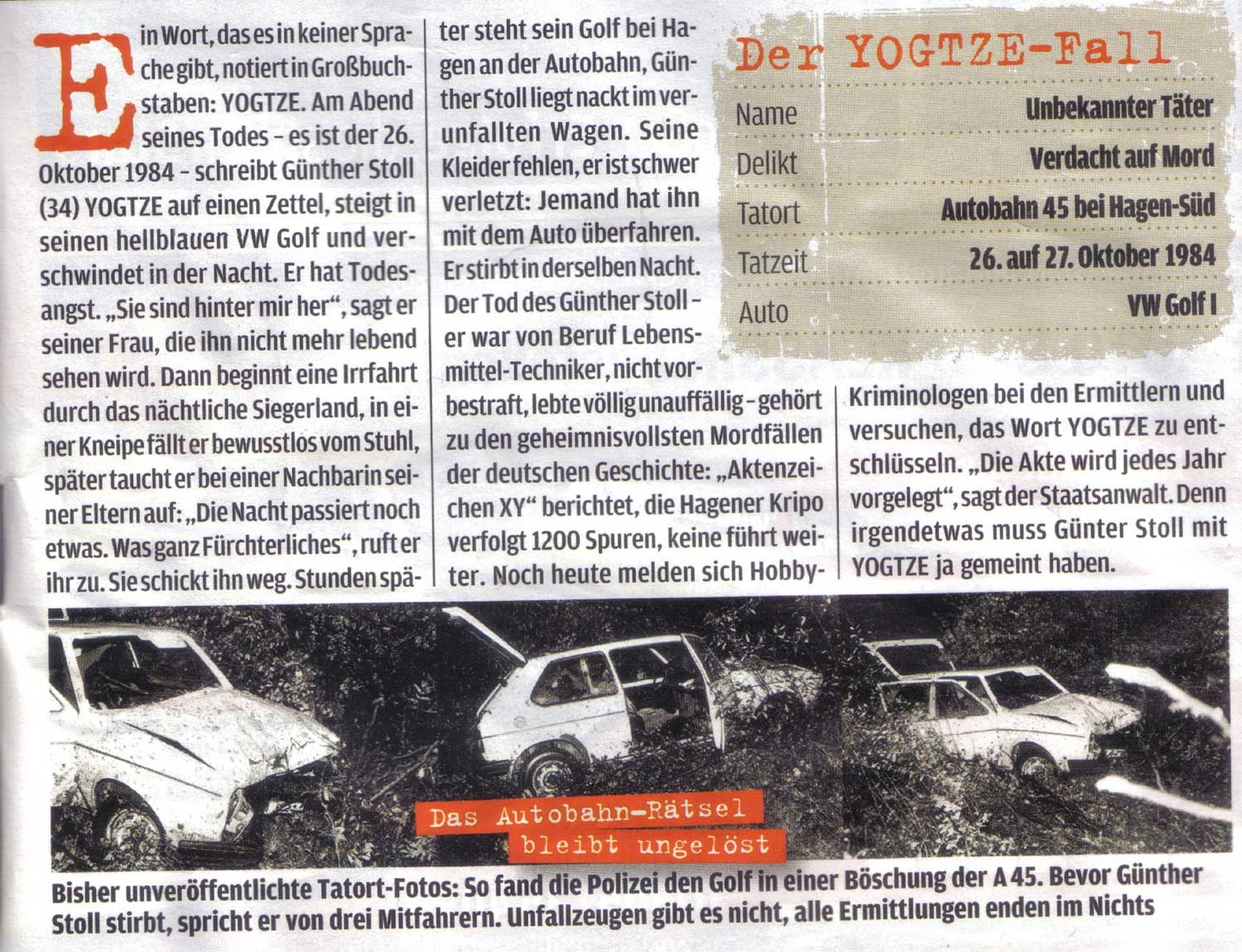 YOGTZE?
Investigators were unable to find any meaning of the word YOGTZE in any known language, although propositions have been made that the letters actually meant YO6TZE, a Romanian radio call sign, or that it was a reference to the yogurt flavoring called TZE. But these are only speculations.

The YOGTZE Murder: What Really Happened
The only logical explanation is that Gunther Stoll was in his car when he suffered a sudden fit of paranoia, took his clothes off, as people often do in delirium and went out in the middle of the road. There he was knocked down by another vehicle, whose driver, afraid, put him back in his car and tried to make it look like a car crash. But then again, complex theories and conspiracies always seem more lucrative to the investigator's eyes and it has even been proposed that Stoll was associated with drug peddlers in the Netherlands, although such claims haven't been established.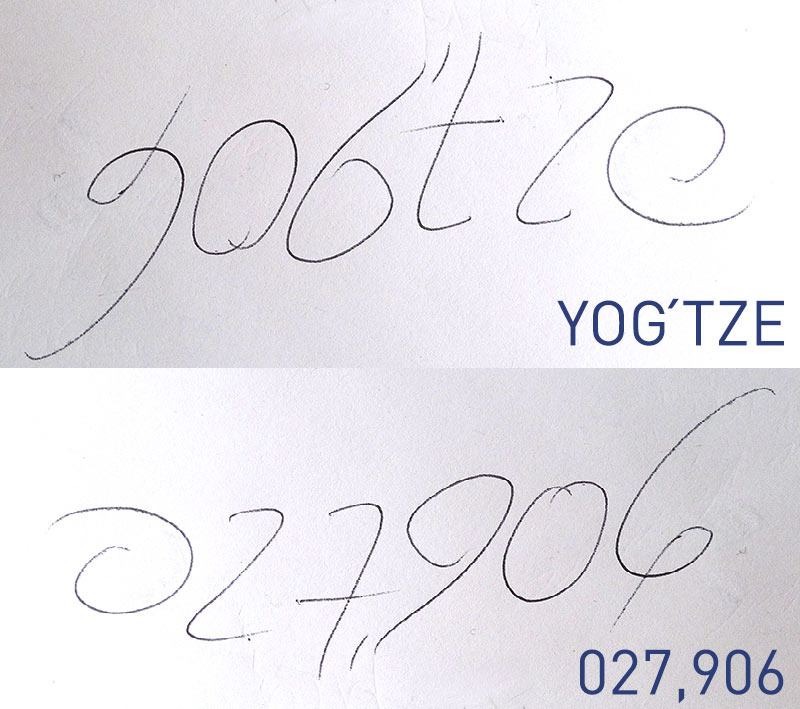 The YOGTZE Murder: Legitimacy in Dispute
Perhaps we will never be able to find out who really murdered Gunther Stoll. But whether the case itself is genuine is in doubt. The only source to the YOGTZE murder case is a Wikipedia post, and doubts have been expressed if this case is a Wiki hoax. The Wiki post itself links to a popular German TV show called Aktenzeichen XY… ungelöst (File Reference XY… Unsolved), which featured this murder mystery on a particular episode. After some research, I have been able to locate a scanned copy of an article from the Autobild Klassik, a snapshot of which is presented at the beginning of this article. You can get the original scanned copy here. This may help further prove the genuineness of this case. Perhaps one of you will be able to provide further information?